The Newport, RI, boat show has always been my favorite; it's the first of the fall boat show season, so almost all the new boats are there, and then, well, it's in Newport. Enough said. This year it's from Sept. 15-18, with most of the docks and tents at the Yachting Center, but spilling over to neighboring docks. There's also a brokerage show and wooden boat show at the same time, while the Newport show itself offers docking lessons on Boston Whalers and sailing lessons on Beneteaus.
We'll have a Newport Boat Show special edition, with write-ups and pictures of many of the new cruising boats, below. I've already tested some of them and I'm looking forward to seeing the others; the Newport show is a great way to open the boat show season.
For hours, prices and other details, go to the show's website, here:
http://www.newportboatshow.com
Here's a Look at Some of the New Boats:
AMERICAN TUGS 395
Although American Tugs are made in LaConner, Washington, about half are now sold on the East Coast as owners recognize the boats' many advantages, including a sturdy hull, raised-pilothouse design, and ease of living on board. The new American Tugs 395 offers all that (including a ten-year hull warranty) plus a two-stateroom, one-head layout, a large salon and a pilothouse that can seat four, in addition to the captain. The pilothouse also has six opening windows, visibility all around, and side doors that give immediate access to the side decks.
The 395 has a cruising speed in the 15-knot range and, with a single 380-hp Cummins diesel, a range of about 1,000 nm if you dial back to 8 knots. The cockpit is protected by an overhang from the boat deck, while the side decks are wide and the rails are high. The master stateroom in the bow has a walkaround queen bed, lots of storage and a large head with stall shower. A guest stateroom has a single upper and double lower berth. The American Tugs 395 has Sapele mahogany paneling all around for an upscale look. Specs.: LOA: 41'6"; Beam: 13'3"; Draft: 3'5"; Disp.: 25,000 lbs. Fuel: 400 gals.; Water: 150 gals.; Power: 1×380-hp Cummins diesel. Price: $587,000. Americantugs.com
AQUILA 44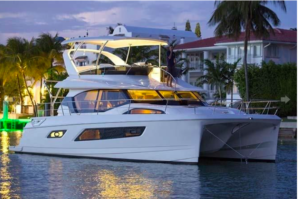 With its 21'6" draft carried all the way forward, the Aquila 44 catamaran has space – and more space – just about everywhere. The three-stateroom, three-head boat also has a lot of privacy. The master stateroom is forward with a king-sized bed, a small settee in a separate seating area and a large head and shower. The two separate hulls, meanwhile, mean the two more staterooms, one on the port side and one to starboard, are totally private, a major advantage during cruise with family or friends.
In the salon, the galley is aft, with a dining/sitting area forward; it's bright and light, with windows all around. Up top, the bridge deck can hold a crowd. The upper helm seat can hold four, there are settees on each side and a wet bar and grill, with more seating, is aft. If you need to reach the bow for, say, anchoring or line handling, built-in stairs lead from the bridge down to the foredeck. For power, the Aquila 44 has two 225-hp Volvo diesels, which produce a cruising speed of 14 knots and a top speed of 19 knots. MarineMax Vacations uses the Aquila 44 in its charter fleet.
Specs.: LOA: 43'8"; Beam: 21'6"; Draft: 2'8"; Disp.: 35,053 lbs.; Fuel: 290 gals.; Water: 206 gals.; Power: 2×225-hp Volvo D4 diesels. Aquilaboats.com; marinemaxvacations.com
BACK COVE 32
A division of Sabre Yachts, Back Cove has built more than 600 boats in its Rockland, Maine, factory since it introduced its first model, a 29-footer, ten years ago. Since then, Back Cove has earned a world-wide reputation for building single-diesel, fuel-efficient, user-friendly Downeast-style cruising boats, with a lineup from 30 to 41 feet The newest Back Cove is a good-looking, well-performing 32 with a lot of innovative features that make cruising easy for a couple or small family.
I was fortunate enough to test the new 32 just after it was launched at the Maine Boats & Harbors show in August, cruising it from Rockland down to the DiMillo's yard in Portland. The 32 is comfortable, sturdy and fun to drive, using only 10 gph at an easy cruising speed of 15.3 knots; it topped out at 27 knots, with the optional 435-hp Volvo diesel, and that was with four of us on board and full fuel and water.
The proportions of the 32 seem just right, while the long sheer line has the same classic flow as all the other Back Coves. For a 32-foot boat, there seems to be an unusual amount of room. The cockpit has an L-shaped settee in each corner aft (a filler can be placed in the middle where the transom door opens to the swim platform). Then it's all one level going forward. Protected under a hardtop, the helm deck has a U-shaped settee on the port side, with an inlaid dinette table. The mate's seat forward moves fore and aft on sturdy runners. The galley is to starboard, behind the helm station with the captain's seat on a pedestal. A large island berth is below, with a toilet and sink on the port side and a stall shower on the starboard side. All in all, the Back Cove 32 would be a comfortable and safe couple's boat for a long weekend cruise in Maine, or a trip down the Waterway.
Specs: LOA: 37'0"; Beam: 11'10"; Disp.: 15,000 lb.; Draft: 3'0"; Fuel: 185 gals.; Water: 60 gals.; Power (standard): 1×370-hp Volvo or 370-hp Yanmar; Base price: $320,000. Backcoveyachts.com
BENETEAU SWIFT TRAWLER 30
A pocket cruiser designed for a couple or a small family, the new Beneteau 30 is the newest – and smallest – addition to the company's popular Swift Trawler line that was first launched in 2003. A single-diesel, fuel-efficient, semi-displacement cruising boat, the Swift Trawler 30 combines French flair with onboard amenities. And it is swift in more than name, topping out at about 22 knots with a single 370-hp Volvo diesel.
An innovation on this boat is the easily-accessible swim platform and fully-opening transom that makes boarding easy for everyone. The master is forward with a second stateroom to port, opposite a head and shower; in the single-cabin arrangement, the port cabin becomes a large, separate shower. A sliding door next to the helm gives instant access to the starboard side deck.
A few years ago I drove the big sister to this boat, a Swift Trawler 34, on a leg of the Great Loop from the top of Lake Michigan to the Mississippi below St. Louis. It was a comfortable two-cabin cruiser with a great hull that easily powered through some rough stretches. I'm sure the 30 will do the same.
Specs.: LOA: 32'9"; Beam: 11'7"; Draft: 3'5"; Disp.: 13,224 lbs.; Fuel: 190 gals.; Water: 80 gals.; Power: 1×370-hp Volvo diesel. Price: About $300,000. Beneteauamerica.com
BRUCKMANN ABACO 40
With its proud bow, classic Downeast lines and elegant fit and finish, the Mark Ellis-designed Bruckmann Abaco 40 offers a combination of traditional appeal with modern performance. Designed as a single-diesel weekender, the Bruckmann 40 is a master of salty understatement, although it tops out at about 30 knots and only sips about a gallon a mile at cruising speed of 24 knots.
Based in Toronto, Canada, Bruckmann Yachts is a high-end sailboat builder, and that heritage shows in the Abaco 40; there's nothing fancy here, just everything you need in just the right place. From the cockpit, you enter the protected helm deck through two large glass sliding doors. Two long – 6'6" – convertible settees face each other along the sides, sailboat style, and a drop-leaf dining table is to port. The captain and mate each have Stidd chairs; the captain faces an elegant mahogany helm, while the mate has a matching chart table with fiddles.
Three steps down the galley is to port, a large head and shower to starboard, and the centerline berth is forward. The interior is Herreshoff style, while seven coats of varnish cover all the mahogany and solid teak caprails. The Ellis-designed hull has fairly flat aft sections with broad chine flats for stability. A large skeg protects the prop and rudder.  Specs.: LOA: 39'3"; Beam: 12'9"; Draft: 3'11"; Disp.: 19,000 lbs.; Fuel: 300 gals.; Water: 80 gals.; Power: 1×670-hp Cummins diesel. Price: $763,000. bruckmannyachts.com
GRAND BANKS 44 EASTBAY SX
The beautiful new 44 Eastbay is the first Grand Banks built since the company hired Mark Richards, the world-champion sailor and founder of Palm Beach, the luxury Australian builder, to run the two companies. With its low profile, long sheer, Downeast-style tumblehome and soft lines, the new Eastbay is a more modern vision of a traditional Grand Banks. It also has twin Volvo IPS 600 pod drives to boost its performance to a 30-knot top speed.
The boat has a large teak swim platform and an L-shaped settee and aft-facing bench seat in the cockpit. The aft and side windows in the salon open, while the salon has a large U-shaped settee to port and the galley, with Quartz countertops, to starboard. The boat comes with three staterooms below, or two staterooms with a utility room, plus two heads. In the three-stateroom version, the master is forward; next comes a large guest stateroom with twin berths and a smaller one with a single. In keeping with the Grand Banks tradition, teak is everywhere; the fit and finish are elegant.
Specs.: LOA: 48'8"; Beam: 14'6"; Draft: 3'2"; Disp.: 39,600 lbs. Fuel: 488 gals.; Water: 194 gals.; Power: 2xVolvo IPS 600s. grandbanks.com
HINCKLEY 34R
It seems that Hinckley just can't make anything but a beautiful boat, and the new Hinckley 34R (for Runabout) lives up to that image. The flowing lines, the gentle tumblehome, the glistening teak, all speak to the company's legacy. This, after all, is the builder who introduced the now world-famous Picnic Boat, and who just launched their 1,000th jet-driven powerboat.
The 34R lives up to its history. For looks, consider the custom teak-capped wraparound windshield, or the elegant sheerline, or the classic analog helm gauges. For performance, twin 320-hp Yanmars coupled to Alamarin jets produce a 33-knot top speed, while Hinckley's Jetstick gives fingertip control for docking.
You board the 34R, a Downeast dayboat, from the swim platform leading to a centerline door and a walkway along the sunpad. A U-shaped settee in the middle of the boat seats a crowd, while a cabin below has small facing settees and a head with a toilet, sink and shower.
Specs.: LOA: 34'3"; Beam: 11': Draft: 22"; Disp.: 14,000 lbs.; Fuel: 160 gals.; Water: 35 gals.; Power: 2×320-hp Yanmar diesels. Price: $685,000. Hinckleyyachts.com
HUNT SURFHUNTER 32
More and more boat owners are turning to outboard power, as the engines become more powerful, more fuel-efficient and so quiet that you often have to look at the tach to see if they're running. In its new Surfhunter 32, Hunt has embraced that trend by hanging two 250-hp Yamahas off an Armstrong bracket on the transom, producing a top speed of 44 knots and opening up the cockpit with more space for fishing or relaxing. The new Hunt 32, of course, has the iconic deep-V hull that was started by C. Raymond Hunt on the original Bertram 31 in 1960.
The new 32 is a stretched version of the popular Surfhunter 29, with a redesigned interior and bridge deck. Visibility from the helm is excellent all around. Varnished teak companionway doors lead to the cabin below, with a full-sized V-berth, enclosed head with shower, and a galley with a single-burner stove, fridge and microwave. The best thing about a Hunt, however, aside from its classic good looks, is the ride. Over the years, I've driven Hunts in all kinds of weather up the ICW from Florida to Rhode Island, and up the Reversing Falls at the top of the Bay of Fundy; these are great boats.
Specs.: LOA: 31'1"; Beam: 10'6"; Draft: 3'0"; Disp.; 9,000 lbs.; Fuel: 235 gals.; Water: 28 gals.; Power: 2×250-hp Yamaha outboards. Huntyachts.com
KADEY-KROGEN 58 EB
Since it was founded in 1977, Kadey-Krogen has built 600 blue-water cruisers that can be found in seas and oceans all around the world. The newest model, the Kadey-Krogen 58 EB (Extended Bridge) has the same iconic looks, full-displacement bulletproof hull and comfortable living areas that have made the company famous. But now it has added more room on top, with seating for ten on the flybridge, plus a "summer kitchen" up there with a propane barbeque grill, fridge, wet bar and storage. And the extended bridge means more protection for people dining or relaxing on the aft deck below.
The new 58 comes in two- or three-stateroom versions, with two heads, a large salon and a kitchen as large as that found in many homes. The pilothouse has an optional berth, a day head and access to the flybridge. Powered by a single 325-hp John Deere diesel, the Kadey-Krogen tops out at 10.4 knots; at 8 knots the boat has a range of 2,600 nm.
I was fortunate enough to spend some time on a Kadey-Krogen in the middle of the ocean during the Nordhavn Atlantic Rally, and I realized that it was a comfortable, sturdy and salty long-range cruiser. The new 58 EB should be all these things too.
Specs: LOA: 63'3"; Beam: 18'1"; Draft: 6'4"; Disp.: 99,230 lbs.; Fuel: 1,810 gals.; Water: 400 gals.; Power: 1×325-hp John Deere diesel. Kadeykrogen.com
KROGEN EXPRESS 52
Even with a flying bridge and raised pilothouse, the Krogen Express 52 manages to carry a classic low profile, enhanced by a long, flowing sheer line that emphasizes the boat's distinctive profile. And the "Express" part of its name is not a misnomer: With twin 480-hp Yanmars the Krogen Express tops out at about 22 knots. Dial back to 8 knots and the boat has a range of 1,680 nm. With a semi-displacement hull, this express offers the best of a get-home-fast speed and a go-anywhere-without-refueling range.
Inside, the Krogen Express exudes fine craftsmanship and cherry finishing everywhere. A raised bench seat aft of the helm in the pilothouse converts to a double berth; Dutch doors open to the wide side decks. Below, the master in the bow is bright, with six portholes and hatches, and massive, with 7'4" standing headroom; an en suite head has a separate shower stall with a seat. A guest stateroom can be configured as an owner desires, including an L-shaped settee that converts to a bed plus a desk. The engine room is one of the best in the business; you can stand up and walk around. Specs.: LOA: 57'6"; Beam: 15'11"; Draft: 4'0"; Disp.: 43,000 lbs.; Fuel: 700 gals.; Water: 370 gals.; Power: 2×480-hp Yanmar diesels. Price: $1.6 million. krogenexpress.com
LEADER 46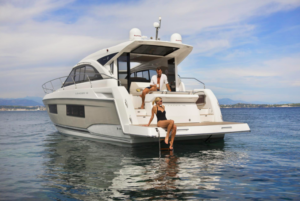 The flagship of the Leader fleet, the new 46 has lots of innovative touches, French lines, and Volvo performance (either with sterndrives or IPS), which all combine to make it an appealing contemporary cruiser. No wonder the Leader 46 by Jeanneau has been nominated for the European Boat of the Year award.
When I was on the boat, I particularly liked the cockpit galley with the grill opening aft; you stand on the wide teak swim platform, facing your guests, and fire up the barbeque. (There's also a traditional galley below.) Another appealing touch: The forward-facing mate's bench seat to port, opposite the helm to starboard, converts into an interior sunpad (or semi-exterior, if you open the large sunroof).
The Leader 46 comes in a two- or three-stateroom layout. The large full-width master is midships, with its own large head and shower; the VIP is forward, with a scissor-type berth that can be either a large single or split into two twins; the VIP also has a large head and shower. A third smaller cabin is also available. The Leader 46 is powered by twin Volvo sterndrive or IPS pod drive systems; all come with joystick controls to make docking easy.
Specs.: LOA 46'10"; Beam: 13'5"; Draft: 3'7"; Disp.: 23,369; Fuel: 238 gals.; Water: 106 gals.; Power: 2×370-hp Volvo sterndrives; 2x 400-hp Volvo sterndrives; 2xVolvo IPS 600 pod drives. www.jeanneauamerica.com
MJM 50Z
The "Z" in the elegant, low-profile MJM 50Z stands for Zurn, as in Doug Zurn, the creative Marblehead, Mass., yacht designer, who teamed up with Bob Johnstone, who started MJM Yachts in 2002. This flagship MJM is fast (I drove it at 38.7 knots in Long Island Sound), safe (with an ISO Category A offshore rating) and comfortable (with a standard Seakeeper gyrostabilizer). With a 15-foot beam, it's also slender, meaning it moves through the water easily and efficiently.
Inside, the master stateroom forward has a large berth but also a desk and lounge chair; it's a social area as well as a sleeping quarters. The en suite head and shower are generous; there's another day head to starboard. The main salon has an extra-large galley on the port side, with enough storage for long-term cruising, while on the starboard side the traditional settee can be converted to a bed and the entire area can be partitioned off with three interlocking panels to provide another private stateroom.
The bridge deck has another seating area, as does the cockpit. The MJM 50Z comes with either two or three Volvo IPS drives; I tested one with three, and the performance was outstanding.
Specs.: LOA: 55'3"; Beam: 15'0"; Draft: 3'10"; Disp.: 35,850 lbs.; Fuel: 520 gals.; Water: 170 gals. Power: 2 or 3×435-hp Volvo diesels with IPS 600 pod drives. Price: Twins –  $1,750,000; triples –  $1,910,000. Mjmyachts.com
NORDIC TUGS 40
The new Nordic Tugs 40 is an updated version of the popular Nordic Tugs 39, with some improvements from stem to stern to make life easier on board, but the 40 keeps the iconic profile and looks (including the faux smokestack) that were first introduced in the classic Nordic Tugs 26 in 1980. The two-stateroom, two-head, raised pilothouse 40 also keeps the company's reputation as a cruiser-friendly, sea-kindly vessel with a long keel and large rudder to help in tracking and stability. I recently tested this boat on the Connecticut River off Essex, and it topped out at about 17.5 knots with a single Volvo 370-hp diesel.
On the 40, the cockpit has been extended about two feet, and a boarding door has been added to each side, while the transom door leading from the swim platform is now on the centerline. A new double glass door provides inviting access to the salon, with a large L-shaped galley aft. Forward, the master stateroom, with a walkaround queen bed, has been enlarged with 6'6" headroom. Visibility from the pilothouse is excellent, and sliding doors lead to the side decks.
Specs.: LOA: 43': Beam: 12'11"; Draft: 4'4"; Disp.: 22,800 lbs.; Fuel: 320 gals.; Water: 144 gals.; Power: 1×370-hp Volvo diesel. Price (base): $629,450. Nordictugs.com
PALM BEACH 65
The Newport show will be the U.S. debut of the Palm Beach 65, which is made in the joint Palm Beach/Grand Banks factory in Malaysia. A luxurious – and beautiful – three-stateroom, three-head boat designed by world champion sailor Mark Richards, the Palm Beach 65 can be ordered with Volvo IPS pod drives or with straight shafts. This particular boat is powered by Volvo D-13 900-hp diesels with shaft drives; bow and stern thrusters make maneuvering easy. I tested this boat recently on Long Island Sound and it topped out at 30.2 knots; the ride was remarkable with the bow barely rising as the big boat came up to speed and the hull – a semi-displacement affair designed by Richards – barely leaning as the boat carved 25-knot turns.
The Palm Beach 65 is much more than just another pretty boat, although one with gorgeous lines and world-class teak accents everywhere. Push a button and the transom lifts up to display a 10.5-foot RIB in the garage. From the helm, push other buttons and the side and back windows power down. The galley is huge, as is the master stateroom, with a king-sized bed and separate laundry room (the owners plan on living on board in the Bahamas).
Specs: LOA: 70'; Beam: 19': Draft: 3'6"; Disp.: 50,700 lbs.; Fuel: 1,320 gals.; Water: 336 gals.; Power: 2x D13 Volvo diesels. Base price: $3.4 million. pbmotoryachts.com
RANGER TUGS R-31 CB
The flagship of the Ranger Tugs fleet, starting at 21 feet, the new Ranger R-31 CB (for Command Bridge) is trailerable, meaning you could cruise one part of the Great Loop, say, this summer, bring the boat back home and start off where you left off next year. And you probably won't have to worry too much about highway bridges. The flybridge folds down to reduce air draft on a trailer to 13'2"; you just unlock the canvas cowling, drop the inner supports and fold it flat.
Ranger Tugs are run by the father-son team of David and John Livingston in Kent, Washington, and they have more experience building boats than just about anyone else on the planet. (Their company, Fluid Motion, LLC also builds Cutwater Boats). David Livingston designed boats for Wellcraft, Regal and Fountain, among others, and was the head of Bayliner when the company was making 56,000 boat a year.
The Ranger 31 has two staterooms and a convertible dinette and lots of innovations. A reversible settee across the transom lets passengers sit facing forward or aft, while gull-wing seats fold out of the cockpit hull on both sides. The flybridge seats four and is reached by stairs, not a ladder. Garmin GPS units are standard for the bridge and lower helm stations, as are bow and stern thrusters.
Specs.: LOA: 31'2"; Beam: 10'; Draft: 2'4"; Disp.: 11,500 lbs. Fuel: 180 gals.; Water: 80 gals.; Power: 1×300-hp Volvo D4 diesel. Price: $309,937. Rangertugs.com
RELIANT 40
The Reliant 40 is the first boat launched by two familiar faces in Newport and two of the most respected names in the business: David MacFarlane, the former president and CEO of Alden, plus Cal, Ranger and Rampage, and Jim Ewing, the former executive VP of Alden and president of Trumpy. Their new Reliant Yachts company is based in Newport, although the boats are made by Su Marine in Turkey. They know that things have changed in their 40 or so years in business, but MacFarlane says that "What hasn't changed is the boating public's passion for a beautiful boat."
And, with its traditional Downeast styling, including a gorgeous tumblehome, wide teak decks, low profile and long sheer line, the new Reliant 40 is beautiful indeed. The fit and finish is elegant throughout. The large cockpit has an aft settee facing an inlaid teak table and two aft-facing seats. The helmdeck, protected under a hardtop, has settees on each side, as in a sailboat. Below, the galley to port has marble countertops, a two-burner stove, fridge and microwave. The master, with a queen-sized bed, is forward, with the head to starboard with mahogany finish and a large separate shower.
Powered by two 320-hp Yanmar diesels and straight shafts, the Reliant 40 cruises at 24 knots and tops out at 30. The hull is super-efficient: At 24 knots, the boat burns 24 gph.
Specs.: LOA: 40'3"; Beam: 11'3"; Draft.: 3'7"; Disp.: 16,800 lbs.; Fuel: 290 gals.; Water: 80 gals.; Power: 2×320-hp Yanmar diesels. Reliantyachts.com
SABRE 42 SALON EXPRESS
With its classic Downeast looks, state-of-the-art performance and luxurious touches, the Sabre 42 is a popular built-in-Maine cruising boat. Living on board is easy, with light all around from large side and aft windows, and the American cherry wood provides a traditional nautical theme throughout. The Zeus pod drives with joystick controls make docking fingertip easy, while the 425-hp Cummins diesels power the boat into the low 30-knot range. One outstanding feature, attesting to Sabre's quest for quality, is the sound level – only 77 dB(A) at top speed – which is exceptionally low, particularly for a large cruiser.
Visibility from the two Stidd helm chairs with Ultraleather is excellent all around; a door gives the helmsman immediate access to the starboard side deck. The galley is mid-level, while below the master is in the bow with a large head and shower. Then there's an option for either a guest cabin with a double berth, or a dinette with fore-and-aft seating. In the salon, an L-shaped settee is to port, facing a two-person lounge with storage to starboard.
Specs: LOA: 40'10"; Beam: 14'0"; Draft: 3'4"; Disp.: 26,000 lbs.; Fuel: 380 gals.; Water: 140 gals.; Power: 2×425-hp Cummins QSB diesels with Zeus 3500 pod drives. sabreyachts.com
TRUE NORTH 38
The original SUV of the water, the True North 38 made by USWatercraft in Warren, RI, combines its signature Downeast looks with 25-knot performance and a unique use of space. The True North's sharp plumb bow parts the waves, its tumblehome suggests a lobster-boat heritage, and its long sheer line mirrors the classic appeal of Alerion sailboats that USWatercraft also makes. What further sets the True North apart is the spacious cockpit and transom doors that open so you can slide in a dinghy, a small sailboat or simply enjoy diving and watersports.
With the transom doors open, it's one level all the way forward to the companionway. The galley is up, to starboard, opposite two lounge seats facing a high-low table that can convert to an extra berth. Below, there's a V-berth and full head with shower. Up top, the cabin roof can hold a pair of kayaks or paddleboards. A single 480-hp Yanmar diesel produces a cruising speed of 21 knots and a top speed of 25 knots. I've tested True Norths off Newport and in Florida, and they are responsive, user-friendly cruising boats that are fun to drive.
Specs.: LOA: 41'6"; Beam: 13'6"; Draft: 3'6"; Disp.: 15,000 lbs.; Fuel: 220 gals.; Water: 100 gals. Power: 1×480-hp Yanmar diesel. Tnyachts.com.