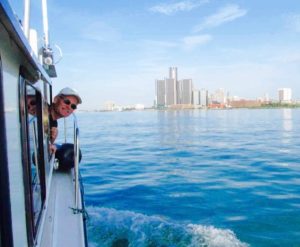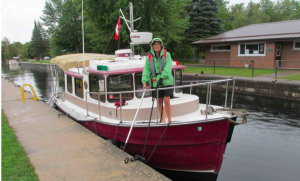 Take a look at the map, above. Taking some poetic license, Cheryll and Rich Odendahl say it resembles a shoe. In any event, it traces a 1,240-mile voyage the Odendahls just completed on their 2008 Ranger Tugs 25, appropriately named Roam. And the Odendahls, who've cruised just about everywhere from Alaska to the Bahamas and Cuba, have named it the Shoe Loop. SHOE, Odendahl says, also is an acronym for St. Clair-Huron-Ontario-Erie.
Intrepid travelers on land, air and sea, the Odendahls have visited 149 countries around the world, many since he retired in 2011 after working 30 years at General Motors. For their latest trip, this summer they started from their home in Algonac, Michigan, just above Detroit, and cruised down Lake St. Clair, past Detroit (see the picture of Rich, above), to Lake Erie, the Erie Canal, and then across Lake Ontario to the Trent-Severn Waterway with all its locks (see the picture of Cheryll above), up Georgian Bay and Lake Huron and back home.
The Shoe Loop took them 31 days. They went through 68 locks, under 25 bridges and burned 197 gallons of diesel, averaging 6.4 miles per gallon at 7.8 mph.
And they loved it. Odendahl wrote on their blog: "The inaugural cruise on the Shoe Loop is complete. Roam did very well requiring no significant repairs. Most importantly, Cheryll and I are still talking to each other after yet another month in close quarters. Who will be the next to take this delightful adventure?"
To read about the Shoe Loop, and their other trips, go to the Odendahls' blog, here: