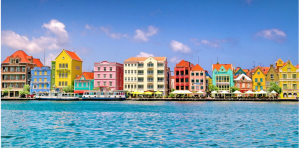 If you're looking for a colorful cruising destination, think about Curacao, where the old Dutch colonial capital of Willemstad (pictured above) is rich with pastel-hued buildings and the island is dotted with beautiful beaches, coves, and coral reefs rich with marine life. And the temperatures are warm year-round, the breezes are gentle and the humidity is low.
Curacao is, admittedly, a long way to go. It's all the way down in the Caribbean, only 44 nm north of Venezuela. But it has many marinas to choose from once you're there, including Curacao Marine, a large, full-service marina and yard in Willemstad, and Seru Boca Marina, which takes yachts up to 170 feet, in an upscale resort setting a bit farther away.
The first Europeans, a Spanish expedition, landed in Curacao in 1499, only seven years after Columbus sailed to the New World. They promptly enslaved the indigenous Arawak as a labor force. The Spanish were followed by Dutch colonists; the Dutch West India Company founded Willemstad on the banks of an inlet with a natural harbor, perfect for commerce, shipping and piracy. By 1662 the company made Curacao the center for the Atlantic slave trade.
Today the island is peaceful and inviting. Blue Bay, on one of the beautiful western beaches, is a particularly popular diving spot. And Curacao's multi-cultural history means it now has a variety of European, East Asian and West Indian restaurants once you're back on land.
Here are two great stories about Curacao as a cruising and vacation destination:
http://www.canadianyachting.ca/destinations/caribbean/3718-the-colours-of-curacao
https://www.caribbeanislands.com/curacao/