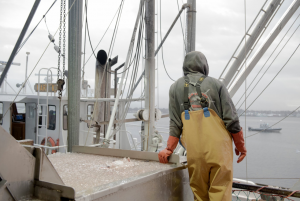 Carlos Rafael seemed like an all-American success story. A Portuguese immigrant, he started out cutting fish on the dock in New Bedford, Mass., one of the most important fishing towns in the world ever since the days of Moby Dick. Over the years, Rafael, now 65, put together one of the largest commercial fishing fleets in the U.S., with almost two dozen boats, controlling almost a quarter of New England's landings of groundfish and scallops.
But now he's in jail, having pleaded guilty to conspiracy, tax evasion, smuggling cash and falsifying his records. And the boats in his fleet, which provide jobs and income for many people and businesses along the New Bedford waterfront, are prohibited from fishing for cod and haddock.
There's no doubt that Rafael was a colorful character. He put his initials on the bow of his boats; he called himself a pirate; he called competitors maggots, and worse. Some people called him the "Codfather." Others thought he was Robin Hood.
According to The New York Times, Rafael's downfall started when he tried to sell his business, for $175 million, to people who said they were Russian mobsters. He showed them his special ledger, which reported the wrong catch to avoid limits. "You'll never find a better laundromat," he told them. Unfortunately for him, the Russian mobsters were IRS agents.
Rafael subsequently was sentenced to almost four years in jail. At his trial, he said, "I did it because I wanted to make sure my people kept getting a paycheck. The waterfront is a hard world we work in." Read more:
https://www.nytimes.com/2018/02/11/us/commercial-fishing-regulation-codfather.html