Looking for a new experience in the Caribbean? Now you can charter an Iguana amphibian boat in St. Martin, and you can enjoy your charter on land and on the sea.
The 31-foot Iguana X100, powered by two 300-hp outboards, tops out at 47 knots on the water; its twin tracks, driven by a 15 kWh electric motor, power it at speeds up to 4.4 mph on land. On the water the Iguana, using Hypalon 860 RIB tubes for stability, can handle four-foot seas. On land, the amphibian can roll over almost any terrain, from mud to rocks, and can handle hills with as much as a 40 percent incline.
For its charter debut, Iguana is offering the X100 in St. Martin, but it can deliver it to the nearby islands of St. Barts, Anguilla, St. Kitts and Nevis. The charter is limited only by your imagination: You can use it for weddings or special private or corporate events, as a sport or dive boat, or as an amphibian parked outside your waterfront home. It also makes a head-turning yacht tender.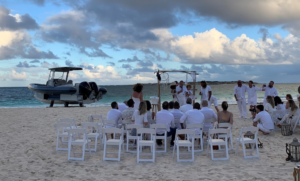 The Iguana is a multi-purpose boat, and can hold up to 12 people. You don't need a dock or a boat ramp. Everyone can climb on board on shore and simply drive out to, and into, the water. Once the boat is launched, the tracks retract seamlessly into the hull.
If you want to buy it, the Iguana X100 costs $272,000. The charter costs vary according to how long you want to use the boat, and where you want to use it. Read more at http://iguana-yachts.com and see a video of the X100 below: