If you don't want to cruise outside the United States because of the pandemic, you might want to think about Lake Powell, on the border of Arizona and Utah, where you could enjoy all the amenities of home, plus some, offered by the new 75-foot Bravada Yachts luxury houseboat.
Whether you're on the Bravada or some other boat, at Lake Powell you won't feel lonely. About two million people a year (in non-pandemic years) visit the lake. Basically a man-made reservoir on the Colorado River, and part of the Glen Canyon National Recreation Area, the lake is about 200 miles long and has 1,960 miles of shoreline, with some 80 side canyons. It's home to rental houseboats, marinas, campgrounds and some of the most spectacular scenery in the world.
The new Bravada, named Invictus, was launched there in December, and it's been turning heads ever since. It's part of Bravada's Atlas V-Series, and it has two-plus decks, 3,200 square feet of space, five cabins plus two cuddy cabins, two heads, two galleys, seven flat-screen TVs, a Bose sound system, Quartz countertops, a fridge/freezer, washer/dryer, water filtration system, central AC and heating and four PWC ramps with electric winches.
On the upper deck you can keep warm during the evenings sitting around the fire pit, or take a plunge into Lake Powell (it's 3,700 feet deep) from the 15-foot waterslide. Or you could just relax on the sun deck with daybeds.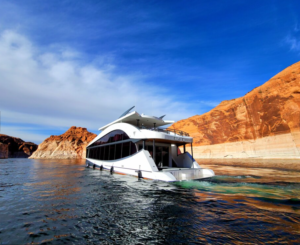 The single helm station has back-up cameras, so the captain can check his surroundings. If you're worried about handling a 75-foot boat with a 22-foot beam, Bravada will send someone to teach you how to drive and anchor. The Bravada plant is not far away in Tolleson, just outside Phoenix. The boat is powered by twin Volvo sterndrives.
Aaron Browning, the Bravada CEO, says it took two years to plan and build Invictus. It certainly doesn't look like most other lake boats. "We're excited to see just how far we can push the envelope in the houseboat industry," he says.
A Bravada Atlas V-Series boat costs about $2 million. If you don't want to buy the entire boat, you also can purchase fractional shares. Read more: