A groundbreaking Italian startup has developed a new water jet propulsion system that could revolutionize electric boats, giving them more speed and range than they have today.
The outboard-mounted DeepSpeed hydro jet has already won several prizes for technology and innovation, and has patents from the European Union and Australia. It was developed by William Gobbo, an Italian banker and tech developer; Ernesto Benini, a professor of fluid dynamics at the University of Padua, and a team of 21 scientists, boat racers and hydrodynamic specialists under the umbrella company Sealence.
DeepSpeed uses a holistic approach to powering an electric boat, emphasizing the strengths of an electric motor. It is an electric waterjet with the motor and propulsion system in a single unit. It can be mounted under the boat, like a Volvo IPS pod, or on the transom, like a sterndrive. It steers by vectoring thrust, and it can be swiveled through 360 degrees to provide reverse or sideways thrust.
The company has adopted a cheeky attitude toward its creation, saying that "Our competitive advantage lies in having conceived fluid dynamic innovations that led us to design a propulsion that didn't exist before: Our jets DeepSpeed. That's it."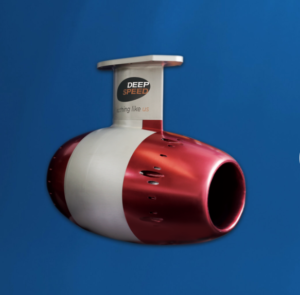 More specifically, Deep Speed, according to the company, has three advantages:
First, both the motor and the jet are in the same device. This lowers weight and size, and eliminates the need of mating (with a transmission shaft, for example), since it uses an electric motor.
Second, the outboard installation creates an ideal cooling system; it eliminates noise and vibration, and it takes up less space and weight inside the boat. No more fuel tank, no more engine compartment.
Third, fluid dynamics provide greater efficiency, thanks to aeronautical-inspired fluid dynamics innovations not technically possible with an inboard installation.
The DeepSpeed prototype funnels water in the front end of the jet; the water accelerates as it passes through the smaller nozzle at the back. It uses impeller blades on a hub-less outer ring that is turned by an electric motor.
Sealence now is working on two DeepSpeed models. One is the equivalent of a 120-hp gas engine; the other, of a 280-hp gas engine. Both can be fit as a single or twin installation in either the pod or sterndrive modes. The company says that a pair of the 280-hp pods would drive a 40-foot cruising boat to a top speed of 38 knots. Read more: