With a 60-knot top speed, there's no denying that the Otam 65 HT One Off is fast, very fast. Powered by twin 2,000-hp MAN diesels and Arneson drives, it cruises at 50 knots.
But it also has a head-turning design, with the hull by Umberto Tagliavini of Marine Design in Rapallo and the interior by Francesco Guida Design studio in Naples, that's inspired by private jets with a blend of carbon fiber, black leather and a black-and-white color scheme.
Otam, in Genoa, specializes in customizing its yachts to fit each owner's desires. The 65 HT was so customized that Otam refers to it as a One Off. The owner of the 65 HT One Off wanted speed, and he got it. With its low profile, sleek aerodynamic lines and 21-degree deadrise hull, the 65 HT One Off is Otam's fastest yacht.
The One Off does not have doors between the salon and the cockpit; it's open, even though the salon has climate-controlled air conditioning. And the cockpit does not have the traditional teak deck; instead, it has grey Esthec compound decking with the "planks" arranged athwartships to emphasize the yacht's width.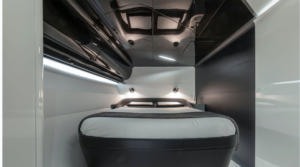 For his part, Guida says the design represents "a new benchmark for interior design in the sports yacht market." The galley is marble, with horizontal black and grey stripes.
The owner wanted a monochromatic black and white color scheme for the three staterooms below, which do not have any windows. So the designer used indirect lighting and white surfaces to bounce light around the cabins. The leather-trimmed beds and side cabinets and brushed stainless steel details and door handles are meant to be reminders of first-class air travel.
Specs.: LOA: 66'6"; Beam: 15'3"; Draft: 4'2"; Disp.: 64,000 lbs.; Fuel: 1,000 gals.; Water: 132 gals.; Power: 2×2,000-hp V12 MAN diesels. Read more: