Tiara just launched its new 48 Luxury Sport, the company's largest outboard model, with three of Mercury's groundbreaking 600-hp V12 Verado outboards.
At its introduction at Mercury's Lake X testing facility in Florida, the new Tiara topped out at 60.1 mph, with a range of 394 miles at 34.6 mph. Tiara was one of Mercury's partners in developing the monster 7.6 liter outboards, and the new 48 Luxury Sport is the builder's first outboard under the Tiara Yachts name.
The pairing of Mercury's innovative outboards with the Holland, Michigan, builder, is the latest example of the growing popularity of outboard power for cruising boats. Other builders, including Hinckley, MJM, Back Cove and Ranger Tugs have introduced cruising boats with outboards in recent years.
The new 600-hp Verados weigh 1,260 pounds each, and they have some innovations that set them apart, even aside from their size and horsepower. Most significantly, the lower gearcase rotates for steering, while the motor itself remains fixed. Mercury says the gearcase rotates a full 45 degrees from side to side, or 15 degrees more than conventional outboards. This increased angle produces faster steering and easier maneuvering, particularly at lower speeds.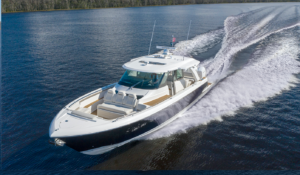 The new outboards also have an automatic two-speed transmission. First gear provides torque and acceleration to get the boat up on plane, while second gear provides efficient cruising and top speeds.
The new Tiara 48 has social areas throughout the boat. The bow has wrap-around seating and a reclining lounge. Aft, Tiara's lounge module rotates and locks in forward- and aft-facing modes, and there's an aft-facing seat.  A "terrace" deploys out over the water on the port side to provide extra room and access to watersports.
A mid-cockpit galley has a sink, grill, fridge and freezer. At the helm, the captain's seat is on the centerline, flanked by companion seats. Below, a pedestal berth is forward with an en suite head, and a second cabin is aft with twin berth.
Specs.: LOA: 48'4"; Beam: 14'2"; Draft: 3'10"; Disp.: 25,000 lbs.; Fuel: 660 gals.; Water: 100 gals.; Power: 3×600-hp V12 Mercury Verado outboards. Read more:
https://www.tiarayachts.com/48-ls