Tired of feeling homebound by the pandemic? Want to feel the wind in your hair, and maybe some salt water on your face? Take a look at the new Saxdor 200 Sport. You don't want to take it on the Great Loop, but you certainly could have a lot of fun around your local harbor. Think of it as a great second boat; no hassles, no problems. Enjoy it and put it away.
The Saxdor 200 Sport has already won awards in its size range, as European Powerboat of the Year and Best of Boats awards, and it was a finalist in the Motorboat Awards. It's light, agile, and fun to drive. And the base boat, with a single 100-hp Mercury outboard, costs $27,160, excluding VAT.
If you think the Saxdor looks like an Axopar, you're right. Saxdor Yachts was founded in November, 2019, by Sakari Matilla, who was one of the founders of Axopar (he left Axopar the previous year).  Both companies are based in Finland; the boats are made in Poland. They both have low profiles, angular styling, and low prices.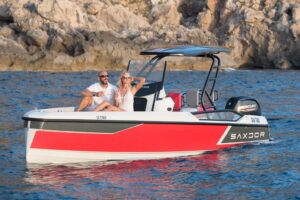 With the Saxdor 200 sport, what you see is what you get. It comes with three seats, much like a Jet Ski, or with four (twin bucket seats at the helm and a bench seat aft for two). It comes in a Sport model, or a more tricked-out Sport Pro model, where power includes 150-hp and 175-hp Merc outboards.
The boat has a twin-stepped hull with a 22.5-degree deadrise at the transom. With the 100-hp Merc, it tops out at 31 knots; with the 175-hp Merc the top speed is in the 40-knot range.
Weighing just 1,719 pounds without the engine, The Saxdor 200 is also light enough and slender enough to tow easily behind the family car. You don't need a truck or special permits. Just have fun.
Specs.: LOA: 19'6"; Beam: 7'6"; Draft: 2'4"; Disp. (excluding engine): 1,719 lbs.; Fuel: 29 gals.; Water: NA; Power: 1×100-hp Mercury outboard. Read more:
.