Foiling hulls, once the province of America's Cup sailboats and high-speed ferries, are going mainstream. Take a look at the new 32-foot Foiler; it has top speed of 28 knots cruising through the water in traditional boat mode, but it hits 40 knots after it deploys its four spider-like foils and flies above the surface. And once it's flying, with the hull more than three feet above the water, the ride is smooth, sure and swift.
Foiler is made by Enata, a Swiss firm with offices around the world. The first Foiler hull was made out of carbon fiber in the United Arab Emirates. Enata says it spent 10,000 hours fine-testing the foils, finding the best way to reduce drag while still providing a comfortable ride in a recreational boat.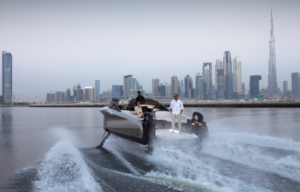 The boat is powered by two 370-hp BMW diesels and a hybrid combination of two gensets and two electric pods. The foils deploy at 18 knots. The ride is controlled by data from 54 smart sensors that measure the foil angles, water pressure, exhaust temperature and much more. At the end of a voyage, the captain touches a button and the foils retract in line with the hull.
In traditional boat mode, the Foiler's beam is 11 feet; when it's flying, the beam is 24 feet. Its low water resistance leads to greater fuel efficiency. With just a 79-gallon fuel tank, the Foiler has a range of 190 nm at 20 knots when its flying, or 150 nm at 30 knots, flying. Since there's no pounding or slapping of the waves, the ride also is quiet when the foils are deployed. You can read more at  http://foiler.com and see the video below: