The people at Navier, a Silicon Valley startup, like to think big. Indeed, they say they are "reinventing the boat as we know it," and they are designing "the boat of the future."
Hyperbole aside, the Navier 27, still in the design stage, will be the first U.S.-made foiling electric boat, and it will be semi-autonomous, at least at first. Later on, the company says that software updates will include self-driving capabilities, making the Navier 27 fully autonomous.
Navier was founded by a pair of MIT engineers with backgrounds in ocean robotics, aerospace hydrodynamics and autonomous systems. The resulting Navier 27 rides on the surface, like a regular boat, until it hits about 18 knots.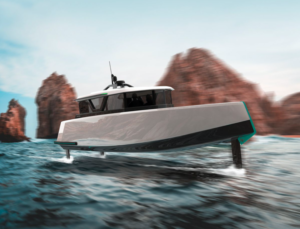 Then the active foil system kicks in. The foils, which had been underwater, deploy, lifting the boat several feet above the surface. The boat then can cruise from 18 to 30 knots, and deliver a range of 75 nm at 20 knots.
The boat has an advanced autopilot system that controls speed and course, and a hazard alert, warning you of danger ahead (or below). There's also an active foil-control system, a stabilization control borrowed from the aerospace industry, sensor-assisted joystick docking, and remote monitoring.
The N27 comes in two versions, the hardtop, for warm-weather boating, and the cabin, for all-year protection. The boat can hold ten people.
Specs.: LOA: 27'0"; Beam: 8;6"; Draft: 2'0", 5'5"; Disp.: NA; Fuel: NA; Water: NA; Power: 2x50kW electric motors. Read more: