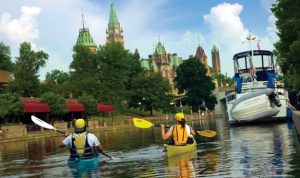 Le Boat, the European charter company with 16 bases in eight different countries, is opening its first operation in North America, centered on the Rideau Canal in Ontario, Canada.
A UNESCO World Heritage site, the Rideau winds 125 miles through beautiful Canadian countryside with unspoiled lakes and picturesque towns from Kingston, on Lake Ontario, up to Ottawa, the capital of Canada (pictured above). With a series of 47 locks, the Rideau is the oldest operating canal in North America; it was considered an engineering feat when it opened in 1832.
Le Boat offers only boats that you drive yourself. It will have a fleet of 16 Horizon cruisers in Canada; they come in four models, ranging from one to five cabins. Each boat has a bow and stern thruster to make docking (and the locks) easy, and they have fenders all around. They also have a set maximum speed of 6 mph.
You do not need a license or special training to charter a boat. The company suggests itineraries that from three to ten nights along the Rideau, although you are free to set your own. Le Boat is now accepting reservations for the Rideau, with charters starting in May. Read more:
http://www.leboat.com/vacations/destinations/canada