John and Kathy Youngblood have just left Glacier Bay, one of the most beautiful spots in the world, on their 2004 Selene 53 Mystic Moon. The picture above shows Kathy in front of Reid Glacier, one of the 50 named glaciers there; it's 11 miles long. The Youngbloods have cruised some 35,000 nm on Mystic Moon in the Caribbean and the Pacific, so they're not easily impressed by the works of nature. But when they were leaving Glacier Bay a few days ago they quoted one of their friends who talked about "such beauty so close to home." They wrote on…
Sponsored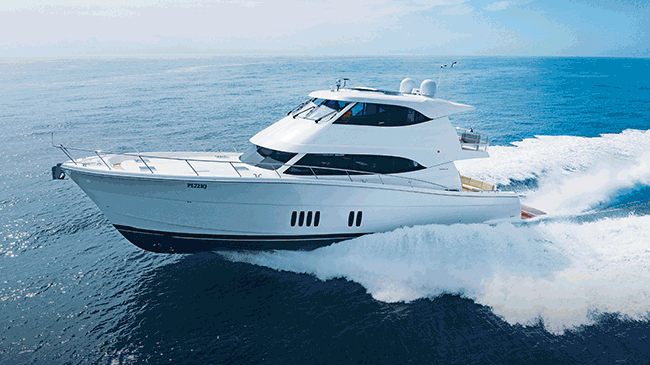 The Maritimo M-Series exudes strength, luxury features, and delivers dynamic performance both in and off shore. 
    From your elevated flybridge and the comfort of your fully enclosed cockpit, intuitive design allows you to easily navigate any environment.
    With its race-bred DNA, the M-Series has the responsive control of a offshore race boat with all the power and safety you could need for blue water performance. 
    In the flybridge, it's all about precision and maneuvrability, but in the spacious cabins and galley, your passengers will enjoy the smooth passage and luxurious design touches. 
Available from 51-70ft cruise in comfort, experience new adventures, and discover where a
Maritimo
can take you.

The Hinckley Company's Hunt 76 and 63 ft. fast expedition yachts define a new generation of the Hunt Ocean Series. Yes, others can go from New York to Palm Beach nonstop, but only on the new Hunt 76 or 63 would you dare to do so offshore. Go anywhere. But first, visit HuntYachts.com.