Grand Banks just announced that it's consolidating its three brands – Grand Banks, of course, plus Eastbay and Palm Beach Motoryachts –  under the umbrella of the GB Marine Group. They will all be manufactured in Malaysia; Palm Beach moved there from Australia last year to join the other two brands. And they all will use Mark Richards' V-Warp hull. Richards used it when it launched his first motoryacht, a Palm Beach 28, in 1998, and he's been incorporating it on Grand Banks and Eastbays ever since Grand Banks bought out Palm Beach in 2014 and put him in charge…
SPONSORED POST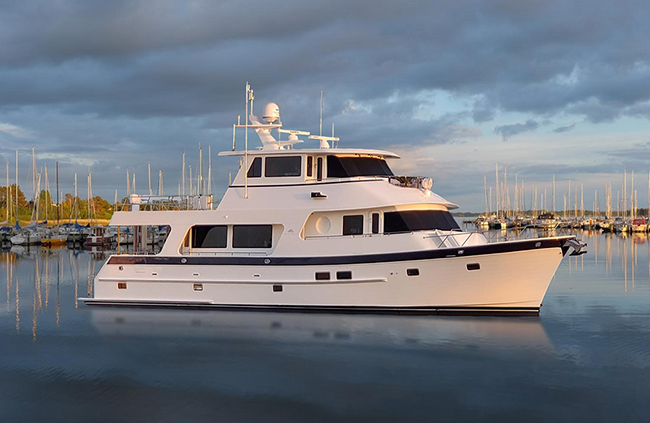 Another Outer Reef yacht owner has decided to stay within the collection after making the decision a larger yacht would better accommodate her family and friends. With the exceptional Outer Reef 2019 610 Motoryacht EQUIESSENCE as her first build with Outer Reef, this discerning owner was greatly impressed with her over-all experience and was later inspired to explore the idea of a larger Outer Reef Classic Deluxbridge™ (skylounge) model. Learn more about her exciting choice to build her second Outer Reef. (Photo: Outer Reef 740 Deluxbridge Motoryacht Sister Ship)

The taut, essential lines are typical of Invictus hulls, in which style and attention to performance are combined: the new TT460 is equipped with two Volvo Penta IPS 650 engines.
The characterizing element of the new Invictus TT460 is the elegant style of the windscreen, from the bow to amidships, which blends seamlessly with the carbon hardtop and further enhances the impressive mass of this yacht.
The deck, which includes a comfortable walkway on its perimeter, has a large sundeck in the bow with a flush-seat at the edge. Amidships, the dinette tables can be folded back to make room for a second sundeck, shaded by the hardtop. In the same position, the topsides can be equipped with two foldable platforms, which increase the liveable space aboard.
Invictus Yachts has given owners plenty of opportunities to customize the interiors, ranging from an open-space solution with a transformable double bed in the stern and a lounge area in the bow, to the inclusion of partitions to divide areas and increase privacy.

FEATURED POST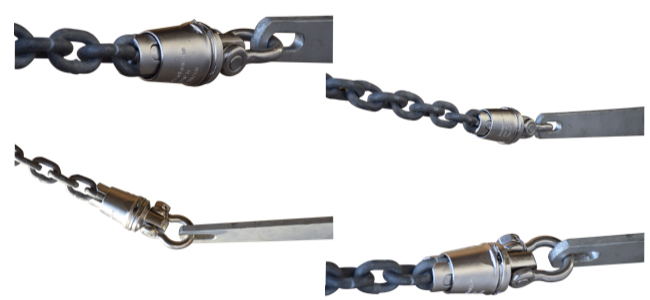 The strongest link – Mantus swivel is stronger than its corresponding Grade 40 chain. (WLL is 1/5 UBS)
Integrated shackle design completely eliminates side loading making this the safest swivel on the market.
The pin on the chain side of the swivel is the strength limiting part since the geometry of the chain determines the pin size. Mantus swivel is the first to feature an oblong pin to maximizes the pin strength, with the aid of computer modeling and physical testing we truly created a swivel that is the strongest link.
Note the innovative shackle bolt design – no shackle dog! This slim hex head design (with holes for safety wire) offers a slimmer profile making it easier for translating through your bow roller.
•  316 L Stainless Steel, Precision Cast and Electro-Polished Body
Pin made from 2507 Duplex Stainless Steel and is mechanically polished and electro-polished.