For those of us who love to go cruising, these are trying times. We're all heading into uncharted waters here, roiled by confusion and often competing narratives, and we don't know how long this will last or how it will end. Many of us live in areas where we have been urged, or ordered, to stay in place, or at the very least to practice social distancing. Now, it seems to me that cruising people are unusually independent people, self-sufficient and capable on the water; we can take care of ourselves, our crew, and our vessels. On land, however, it's…
Sponsored
Outer Reef Yachts are built to bridge the gap between mere ideas and real possibilities. The journey you've planned and strived for becomes tangible, as Outer Reef yachts are robust, efficient, and capable of true bluewater cruising. As an Outer Reef owner, a private oasis to get away from it all awaits! The Outer Reef 610 Motoryacht has been deemed the "perfect-sized" yacht for owner-operators who are looking for ease of maneuverability, fuel efficiency, and storage capacity.
BoatTest.com 610 Motoryacht Features Video
Outer Reef 610 Motoryacht Model Info
SPONSORED
Invictus was born from a challenge: to offer a new landmark to the Italian and international yachting market of leisure shipbuilding. Invictus is represented by various vessel ranges, which were designed and built applying qualities such as aesthetics, state-of-the-art construction, reliability, flexibility and endurance. Thanks to the collaboration with Christian Grande, Invictus has transferred a strong technological element and great design into its vessels. In 2020 Invictus Yacht officially debuted in the US with the official dealer Invictus Yacht USA: the GT 370.

SPONSORED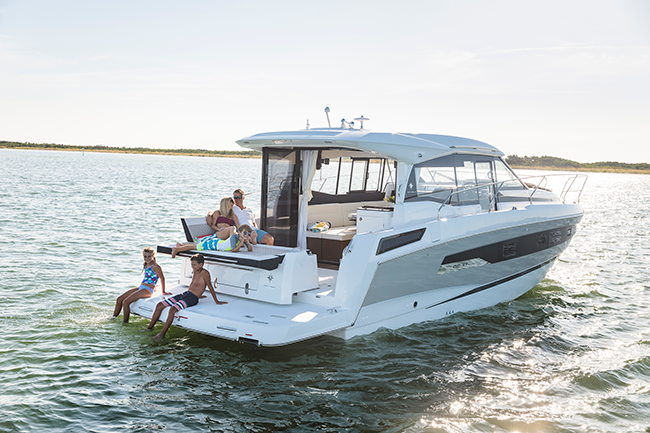 We would like to introduce you to the NC 37, designed for life on one level. The NC 37 has panoramic windows and a large opening sunroof bringing in lots of natural light. The large sliding glass door fully opens, connecting the salon and galley interior with the aft cockpit. The L-shaped aft cockpit can be converted into a sundeck for lounging, while forward the sundeck has a canopy for sun protection while relaxing. Down below, the owner's and guest cabins are similar in size paired with an additional third berth or storage space, plus a head with separate shower compartment.