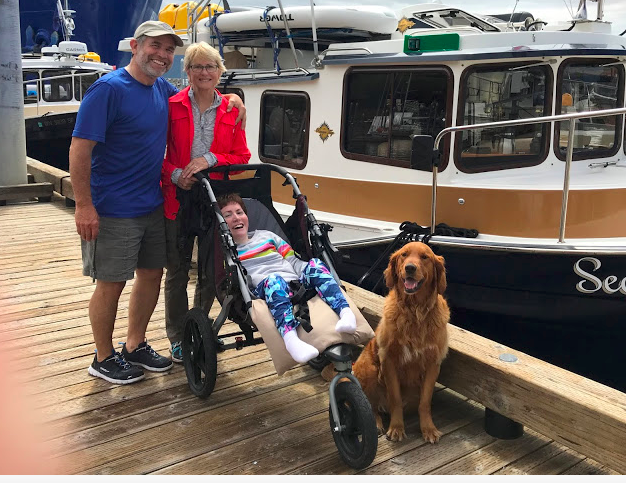 The Leopolds Cruise Their Ranger Tug 27 Up the Inside Passage  to Alaska, All Three of Them (and Moxie)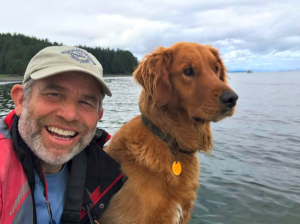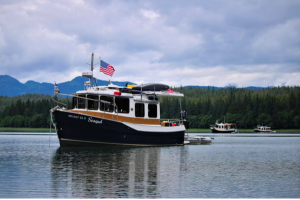 By Peter A. Janssen
When Mark and Peggy Leopold drove a trailer with their 27-foot Ranger Tug out of their driveway in Anacortes, Washington, on June 2, heading for the launch ramp to start their 3,000 nm round-trip to Juneau, Alaska, they left the davit crane that they usually use to lift their daughter Nicole on board behind.
Instead, given the uncertainty of docks they would be encountering along the way, they brought a two-person sling, with secure straps, to carry her. Nicole, now 29, and one of the Leopold's five children, has cerebral palsy, resulting from a bout of viral encephalitis that almost killed her before she was two. They did pack a three-wheel jogger for her to use on trips ashore. And they definitely brought along the family dog Moxie, a four-year-old Golden Retriever.
The Leopolds bought Seaquel, a 2013 Ranger Tug, in 2015. It's their fourth powerboat; it has a 200-hp Volvo diesel and they usually cruise at about 10 knots. They love the outdoors and ski in the winter, and they have cruised extensively through the San Juan and Gulf Islands. Cruising the Inside Passage to Alaska was on their bucket list, and it was important to them to share the adventure with Nicole; to show that even someone with a severe disability can enjoy and celebrate the long-range cruising life. On the trip, Leopold wrote, "self-reliance is a must." He added that the entire voyage was "a bit daunting but exhilarating."
Seaquel was one of three Ranger Tugs in their own mini-flotilla to Alaska. Ollie and Pam Pepper, who are retired, as are the Leopolds, were on another Ranger 27, Beyond. They had cruised as far north as the Broughton Islands in British Columbia, but never up the Inside Passage. And Glen Wagner, a former design engineer for Ford, was on Journey, his Ranger 25; he too had never been that far north. Wagner now works part-time as a delivery captain for Ranger.
The flotilla made it to Juneau in time to enjoy the Fourth of July parade and indulge in some ice cream cones before Mark, back on the boat, put together a celebration surf-and-turf dinner, making Hollandaise Sauce from scratch (three egg yolks, half a stick of butter, and half a fresh-squeezed lemon, whipped over a low heat). They smothered it over fresh Dungeness crab to go with their New York steaks. Then they cruised north another 22 miles to the National Shrine of St. Therese, before heading back home.
The Leopolds are now south of St. Petersburg and plan to get home in mid-August. But they've already had the trip of a lifetime, the three of them (and Moxie). They've had calm days and stormy days, they've seen icebergs, bears, eagles and whales (some twice as big and two or three times as heavy as their boat), and they're living their lives together. Their story is about the triumph of hope and adventure over whatever hardships life throws in your way. For more: