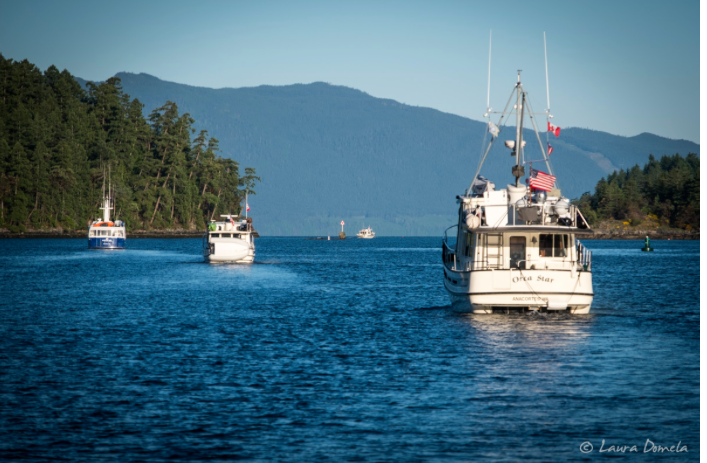 Slowboat Flotilla to Alaska: Safety – and Fun – in Company
The peak cruising season in the Pacific Northwest is just starting, but the Slowboat flotilla has already left Roche Harbor in the San Juans, heading up the Inside Passage to Sitka, Alaska. The flotilla has six boats this year, a Nordhavn 50, West Coast 46, Nordic Tug 42, two Nordic Tug 37s, and a Nordic Tug 34. All the owners are experienced boaters (including some who have lived aboard for 20 years and some who have cruised to Alaska before), but Laura Domela, one of the Slowboat organizers, says "the common theme is recent retirement and finally having enough free time to spend the whole summer on the boat." And traveling in a flotilla adds major elements of both safety and sociability, which are appealing no matter how much experience you have.
Living up to its name, the Slowboat flotilla will take about a month to get to Sitka, generally cruising at 8 knots or so, spending about half the nights at docks and half anchored out. The annual flotilla has included as many as nine boats in the past, but Domela says, "This trip is small enough that we can easily sneak into all the good anchorages or gather on a single boat for happy hour or dinner."
The flotilla is led by Sam Landsman, on Safe Harbour, his Nordic Tug 37, with Domela and Kevin Morris next on Airship, their Nordic Tug 34. Landsman is the former editor of Waggoner Cruising Guide and he's led flotilla trips to Alaska for the past three years; he lives and works aboard in Seattle in the winter. When they're not traveling on their 27-foot Airstream trailer, their Cirrus G3 turbo plane or their Nordic Tug, Domela and Morris live in Portland, where she's a photographer and he runs an electronic engineering publishing company; they both work on board during boating trips.
But leading the flotilla has its responsibilities. Landsman had to urge everyone to leave Pender Harbour (pictured above) early one morning to beat the 30-knot winds predicted for later that afternoon. "Dragging the group out of bed at the crack of dawn isn't fun," he said, "but in this case it was the right call." Indeed, the flotilla made it across Malaspina Strait and into Desolation Sound with little wind and calm seas.
To follow the flotilla, go to: http://slowboat.com