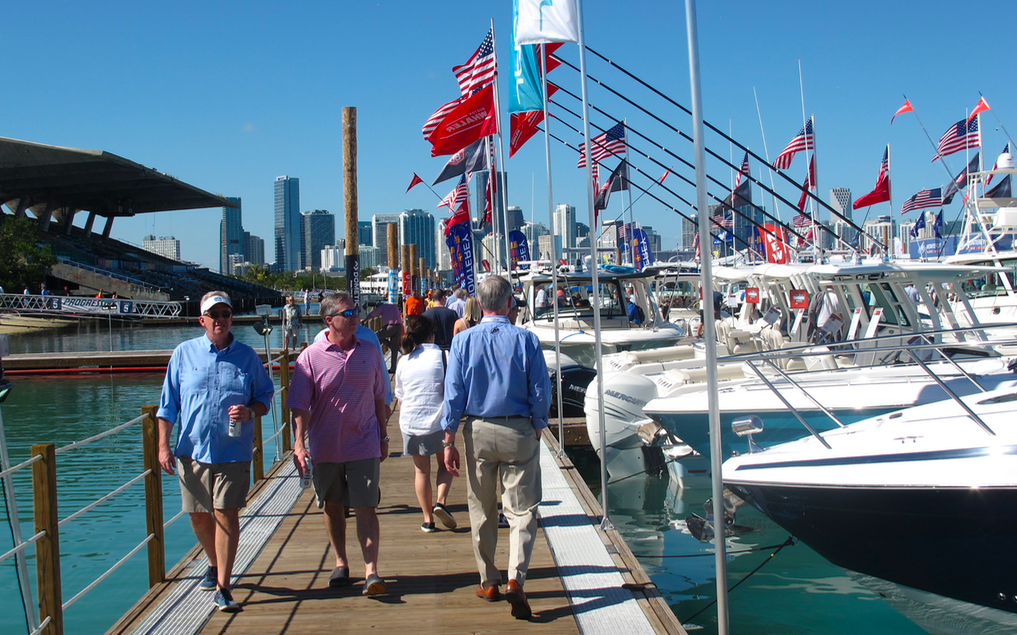 Miami Show Opens Big: More Boats, More People, More Enthusiasm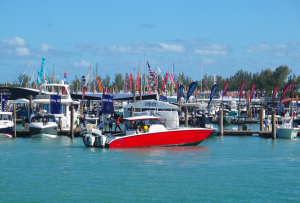 By Peter A. Janssen
The Miami International Boat Show got underway under beautiful blue skies with more people, more boats, more outboards, more hybrids, more cats and more enthusiasm that I've seen in a long time. The mood on the docks, and in the lines waiting for water taxis and shuttle buses to and from the show at Virginia Key, was distinctly upbeat.
Power boating has been coming back lately. The Lauderdale show in November was the best in years, the New York show last month was so good that Thom Dammrich, president of the National Marine Manufacturers Association, said boats were "flying off the show floor." The Seattle show last week was so strong that informed rumor has it that Cutwater Boats and Ranger Tugs combined sold 92 boats. And dealers and customers were all smiles here on the opening day of the country's biggest show of all.
One particularly happy person was Kadey-Krogen Vice President Larry Polster, who showed us (George Day and Scott Akerman, my Cruising Odyssey colleagues) through hull number one of the Kadey-Krogen 50 Open, which happens to be his personal boat. In keeping with the company's tradition, the engine room, with a single John Deere 230-hp diesel, is well-laid out and absolutely enormous. Polster and his wife Janet are taking the boat cruising in the Abacos before long; it has an office on board, so he says he'll still be working.
At Sabre and Back Cove, Bentley Collins, the vice president of marketing and sales, said the Sabre 45 was "on fire," with hull number 41 selling in Seattle, while hull 113 of the popular Sabre 48 just shipped. Meanwhile, five of the Maine builder's flagship 66s are now in the water.
More and more cruising boats here had outboards hanging off their transoms. The MJM 35Z had two 350-hp Mercs, the Hunt 32 had two black 300-hp Veradoes, a new Cutwater 30 had two 300-hp Yamahas, and the Aquila 36  cat had two 350-hp Mercs. Demand for outboards is so strong that Ben Speciale, the president of Yamaha, sent a letter to dealers recently saying the company's ability to supply new engines "will be very fluid." It may take a while.
Meanwhile, demand for hybrids and solar power is growing. Indeed, there was a "Solar Power Electric Zone" at this show for the first time, including the new Avon all-electric RIB with an 80-hp Torqueedo Deep Blue Engine and batteries from BMW.
On the cat front, the brand new Fountaine Pajot 37 MY, the French builder's entry level cruiser, was drawing attention. The boat comes with three or four staterooms, both with two heads, and has a 1,000 nm range. If you want a larger cat, just one dock away was the Lagoon Seventy 8, a luxurious beauty with a 36-foot beam and a fold-out balcony from the master stateroom.
We'll head up to the Miami Yacht Show on Collins Avenue tomorrow, so we'll have a full report later on. Stay tuned. For more: