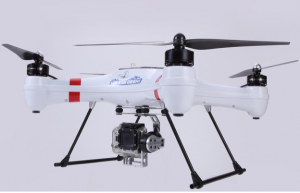 What to get for that favorite boat owner on your Christmas list? The good news is that boats, and boat owners, almost always need something. The problem, as holidays and birthdays come and go, is to find something new – something they'll not only like but also use.
Here are 40 answers to that question, and if you don't find some ideas here, well…The list is compiled by Yachting World, the British publication, and it's labeled as gifts for sailors, but almost all of the 40 apply to powerboat owners too.
It's hard to pick favorites (there are so many here), but I personally was taken by Number 1, the Garmin inReach, which lets you keep in touch with your friends and family when you're cruising offshore or any distance from home (see top picture); by Number 16, the small, wearable Ocean Signal rescueMe man overboard device that triggers your boat's VHF alarm  (above left); and by Number 20, the Splash Drone that's billed as the first fully waterproof quad copter – it actually floats (above right).
To convert the prices here, the U.S. dollar is now trading at about $1.34 to the British Pound.
Read more:
http://www.yachtingworld.com/blogs/toby-hodges-blog/18-top-christmas-gift-ideas-sailors-sourced-selection-favourite-new-products-60993