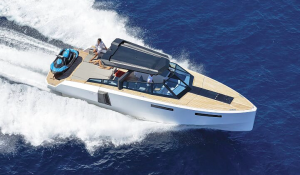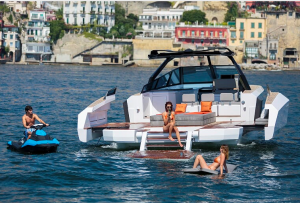 If you can't have fun with this boat, well, I don't think there's much to say. Yes, I know it's not the traditional cruising boat we usually write about, but it seems just so outrageous, so out there, that I couldn't resist. And this definitely is a case where a picture is worth anybody's 1,000 words.
For the record, this is the new Evo 43, with a full carbon T-top, that will be launched at the Fort Lauderdale International Boat Show starting Nov. 1. Totally aside from its uber-modern, plum bow, minimalist design, it's the boat that just keeps giving. Take a look at the swim platform – up, down, whatever. Or the cockpit, which just keeps getting wider and wider. And when it's all put back together again, the Evo 43 is a good looking boat, a day cruiser, or a weekender, perhaps.
Appropriately enough, the Evo 43 is high tech; you can manage it with your smartphone or tablet. It's made in Italy and has a deep-V hull with an 18-degree deadrise at the transom. With twin 435-hp Volvo IPS 600s, it cruises at 30 knots and tops out at 38 knots.
The company fitted out this boat for the American market; it has a double barbecue grill, an ice maker, a microwave in the dinette, and air conditioning. Bring your friends. For more: http://evoyachts.com