Here's a new high-tech, folding, electric-powered bike that could fit in your lazarette of your boat and then give you a comfortable ride on shore. It has a top speed of 20 mph and a range of about 50 miles on a single charge. The new bike is the Gocycle GXi, just named one of Time's 100 Best Inventions for 2020, and in ten seconds it folds into a package that's about two feet high and 14 inches wide.
With a frame made from injection-molded magnesium alloy, the Gocycle GXi weighs just 38.6 pounds, and it can carry a load of up to 220 pounds. It has a 42-inch wheelbase, and costs about $4,800.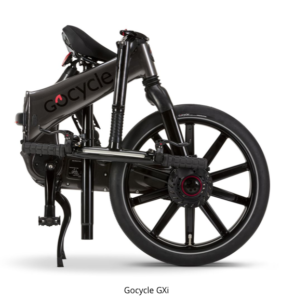 The Gocycle GXi is powered by a lithium-ion battery that's easily accessible and is hidden in the bike's frame. The battery delivers 17 Ah, 22 V and 375 Wh. You can recharge it just about anywhere; a full charge takes about four hours.
The bike has electronic shifting, plus an app that lets you customize how much power you want, giving you more power when you're going up a steep hill, for example. It also has proprietary PitstopWheels, where six bolts fasten the wheels to the hubs, similar to the wheels on cars. The side-mounted design looks great, and it also provides easy access for fixing a flat tire, if necessary, without removing the wheel. Read more: