Silent Yachts just announced that will build a solar-powered luxury waterfront resort in Eleuthera, the Bahamas, that also will include the Austrian company's solar-powered catamarans.
The Eleuthera location will include 16 waterfront villas and eight Silent power catamarans. The first of half a dozen other Silent Resorts planned around the world, the Bahamas destination will include a beachside clubhouse, resort pool, restaurant, bar, fitness room, game room, and a spa. Construction will start in 2021. Other possible destinations include Belize, Panama, French Polynesia, Maldives, and Indonesia.
"With Silent Resorts, we are creating the world's first 100-percent solar-powered, luxury adventure cruising destination where land and sea are integrated," said Michael Köhler, the founder and CEO of Silent Yachts.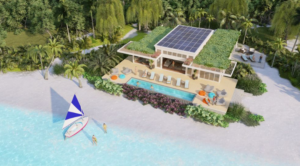 The Bahamas resort will start with 25 founding members. All members will have full access to their four-bedroom villas and four-cabin yachts for five weeks or more a year. Founding memberships cost $395,000, and are good for a lifetime; they also can be gifted or sold.
"The only thing our members will have to worry about is when they will return for another extraordinary villa-yacht vacation," says Victor Barrett, CEO of Silent Resorts. "They can combine villa stays and yacht cruises, or stay only in a villa or only on a yacht during their visits. For large travel parties, they can enjoy multiple villas and/or yachts during the same trip. It's up to them how they use their membership privileges."
To celebrate the opening of the resort, a Silent 55 named Silent Voyager will start a historic solar-powered world cruise this spring in Italy, ending up at the Bahamas resort. Then it will circumnavigate in 2022, exploring other resort locations when they open.
Each founding member of the Bahamas resort will get a personalized scale model of a Silent 60 with their name and membership number on it. Read more: