Volvo Penta just introduced its new Assisted Docking system for IPS boats, and it's designed to overcome the effects of wind and current while docking. Assisted Docking isn't guaranteed to eliminate all the fear and stress from docking in adverse conditions, but it certainly comes pretty close.
Volvo announced the new system at its virtual booth in the Consumer Electronics Show. It first unveiled the self-docking prototype two years ago.
Assisted Docking uses software from Volvo's GPS-based Dynamic Positioning System to work with the IPS fingertip-controlled joystick. The new package includes a "human-machine interface" (or HMI, as Volvo calls it) at the helm, electronics controlling the engine and propulsion, sensors, and navigation processing.
The system makes it easier to move the boat in a straight line or maneuver in tight quarters using the  joystick. The new software calculates how conditions affect the drive angles, and it moves the boat back on its intended course.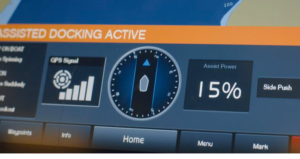 The features include the ability to keep the boat moving in a straight line without any manual input; to keep the boat standing still; to rotate around a fixed point, and to push sideways for docking. A large screen at the helm provides all the information the captain needs to control the system with the joystick.
"Assisted Docking is a hybrid between automated docking and manual docking," said Ida Sparrefors, the head of autonomous solutions and new business models for Volvo Penta. "Even though, in some ways, it would have been easier to implement full automation, the beauty of this system is that it gives the captain enhanced control. With our team of experts – from software developers to test drivers – we have made it behave intuitively in all situations, so anyone can feel like a seasoned captain."
The Assisted Docking system will be ready this spring for installation on new IPS boats from 35 to 120 feet.  It also can be a retrofit for IPS-powered boats, requiring a software upgrade and a new antenna. You can see it in action in the video below. Read more:
https://www.volvopenta.com/assisteddocking/