If you're thinking of cruising to Maine this summer, you might as well go all the way Down East and head for Bar Harbor, a bustling vacation destination with lots to do and the gateway to Acadia National Park, with some of the most beautiful vistas in the United States.
Bar Harbor is on Mount Desert Island, all the way around, past the iconic boating communities of Southwest Harbor and Northeast Harbor, across the way and the start of Somes Sound. Overlooking all this is Cadillac Mountain, the highest mountain on the eastern seaboard.
As a community, Bar Harbor was founded in 1796, and for generations it was the farthest Down East point for schooners coming and going from New York and Boston to London and the continent. Today, it is filled with B&Bs, boutique hotels and small resorts. Most of the year it lives up to Maine's state motto – "The Way Life Should Be" – but during the summer you won't feel lonely.
If you come by boat, you can stop at the decidedly upscale Harborside Marina downtown. It's a full service marina with floating docks for boats from 25 to 200 feet. It's part of the Harborside Hotel, with a list of amenities including tennis courts, a heated pool, fitness center and concierge service.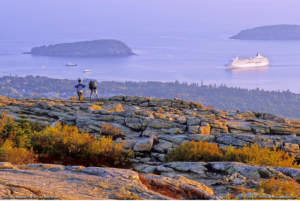 In Bar Harbor, you won't run out of things to keep yourself busy. The place is full of small restaurants; you have to try the local steamers, mussels, clam chowder, lobster, and a dessert of Maine blueberry pie with a scoop of vanilla ice cream.
To work that off, you can rent sea kayaks, SUPs, sign up to haul traps on a local lobster boat, go whale-watching or take a windjammer cruise. A swim at Sand Beach, popular with tourists and locals, will wake you up; the water can be chilly.
The must-see destination, however, is Acadia, stretching out over 47,000 acres, primarily on Mount Desert Island, and the home of moose and bear and glacier-scoured granite peaks, including Cadillac Mountain. Years ago, John D. Rockefeller, Jr., donated more than 11,000 acres to the park, and he was instrumental in creating the carriage trails that now serve bikers and hikers through the park and the town of Bar Harbor. The entrance to the park is only a mile from downtown. Read more: