The Newport, RI, boat show has always been my favorite. It's the first of the fall show season, so almost all the new boats are there, and then, well, it's in Newport. Enough said.
This year the show runs from Thursday, Sept. 14 through Sunday, Sept. 17, with most of the docks and tents at the Newport Yachting Center, but spilling over to neighboring docks. There's also a brokerage show at the Newport Shipyard, and a wooden boat show at Bowen's Wharf.
In addition to the new boats, electronics, gear and equipment, seminars and courses run throughout the show. Confident Captain holds hands-on, in-the-water power and sail courses; a 90-minute course on Powerboat Docking and Maneuvering, for example, costs $99 per person. It's popular, so you should register in advance.
Show parking is at Easton's Beach and costs $20. A free shuttle runs to the show. Or if you want to get in the boating mood, you can park in Jamestown and take the ferry to the show.
For details, go to: http://newportboatshow.com
Here's a Special Report with reviews of 25 new cruising boats you can see at the show:
AMERICAN TUGS 435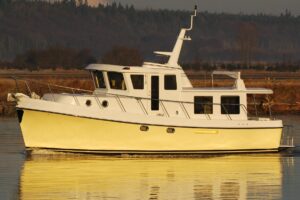 A sturdy cruiser, well-equipped to handle the coast of Maine, the Great Loop, or the Waterway down to the Keys or the Bahamas, the new American Tugs 435 has two staterooms, two heads, a raised pilothouse, a comfortable salon with forward galley and enough storage and living areas to keep a couple or family comfortable for a long time onboard. American Tugs are made in LaConner, Washington, but about half are now sold on the East Coast as more and more owners appreciate all the boats have to offer. The no-frills approach to cruising, with a single 500-hp Cummins diesel, a Side-Power bow thruster to help with docking, and a solid hull (with a 10-year warranty for workmanship and blistering) is increasingly popular both with experienced cruisers and people just starting out.
Inside, the master is midships with a walkaround queen bed, a cedar-lined hanging locker, side tables, lots of storage areas and an en suite head. The second cabin is in the bow, with the berth to port and an en suite head to starboard; both heads have large showers. In the pilothouse, the helm chair is centered, with an Edson stainless wheel, a large console for electronics, and a seat for four adults, with a table, behind the helm. Doors open out to the side decks, and the pilothouse has six opening windows, with screens, for visibility all around. The salon has an L-shaped settee to starboard, with the galley forward to port.
Below the waterline, a molded composite skeg protects the prop and supports the rudder, while both the main engine and the 9kW Northern Lights genset have underwater exhaust. Specs.: LOA: 43'7"; Beam: 15'10"; Draft: 4'10"; Disp.: 29,200 lbs.; Fuel: 640 gals.; Water: 210 gals.; Power: 1×500-hp Cummins diesel.
AQUILA 44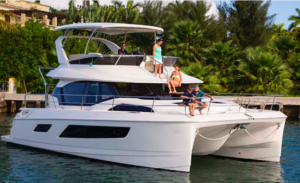 With its 21'6" draft carried all the way forward, the Aquila 44 catamaran has space – and more space – just about everywhere. The three-stateroom, three-head boat also has a lot of privacy. The master stateroom is forward with a king-sized bed, a small settee in a separate seating area and a large head and shower. The two separate hulls, meanwhile, mean the two more staterooms, one on the port side and one to starboard, are totally private, a major advantage during cruise with family or friends.
In the salon, the galley is aft, with a dining/sitting area forward; it's bright and light, with windows all around. Up top, the bridge deck can hold a crowd. The upper helm seat can hold four, there are settees on each side and a wet bar and grill, with more seating, is aft. If you need to reach the bow for, say, anchoring or line handling, built-in stairs lead from the bridge down to the foredeck. For power, the Aquila 44 has two 225-hp Volvo diesels, which produce a cruising speed of 14 knots and a top speed of 19 knots. MarineMax Vacations uses the Aquila 44 in its charter fleet.
Specs.: LOA: 43'8"; Beam: 21'6"; Draft: 2'8"; Disp.: 35,053 lbs.; Fuel: 290 gals.; Water: 206 gals.; Power: 2×225-hp Volvo D4 diesels.
BACK COVE 32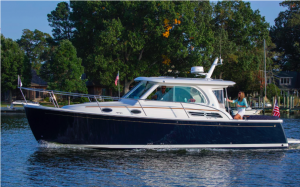 Back Cove is returning to the Newport show with its classic 32, a popular Maine-built couple's cruiser  that was named Best Powerboat Under 35 Feet at the show last year. I've been a fan of Back Coves since I tested the very first one they made, a 26, ten years ago, and I've tested every model since then. The single-diesel, fuel-efficient, user-friendly themes of the brand, combined with their iconic Downeast lines, make them very appealing, and the new 32 lives up to the company's reputation.
You walk on the boat through a centerline door in the transom, and then the deck is level all the way forward to the companionway. The cockpit has matching L-shaped settees in both corners, and can be partially protected by an optional Sure-Shade awning. Forward, there's a convertible U-shaped settee to port, with a cruising galley to starboard, all under hardtop.
Below, the head compartment is to port, while a separate shower stall is to starboard. A generous island berth is forward. Interior highlights are all in American cherry, but there is no wood on the exterior of the boat in keeping with Back Cove's low-maintenance tradition.
I cruised on the Back Cove 32 from Rockland, Maine, where Back Coves are built, down to Portland, and found that this is a comfortable, easy-riding boat with lots of room for the four of  us on board. The boat topped out at 26.7 knots; at a cruising speed of 15.8 knots it burned just 10.1 gph, with the upgraded 435-hp Volvo diesel.
The Back Cove fleet now stretches from 30 to 41 feet.
Specs: LOA: 37′; Beam: 11'10"; Draft: 3′; Disp.: 15,000 lbs. Fuel: 185 gals.; Water: 80 gals. Power: 1×370-hp Volvo diesel, 1×370-hp Yanmar diesel or 1×435-hp Volvo diesel.
BENETEAU SWIFT TRAWLER 35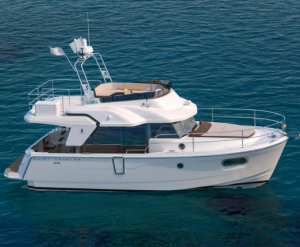 The Beneteau Swift Trawler 35, an update of the popular Swift Trawler 34, is making its debut at the Newport show. The new 35 has all the features of the 34, plus upgrades inside and out, the most obvious being new twin transom doors that open out to create a massive open space from the swim platform through the cockpit into the salon.
I have a very warm spot in my heart for the Beneteau Swift Trawler 34. Five years ago, I spent more than a week on one with George Sass Sr., the photographer, as we cruised 700 miles of the Great Loop from the top of Lake Michigan down to Chicago and then down the Illinois and Mississippi Rivers to Hoppie's Marine Service, 20 miles below St. Louis. We found that living aboard was easy, with a large master and smaller guest cabin, a single head with shower, a bright open salon and a large cockpit where we relaxed each morning with coffee and each evening with something else.
The 34 was particularly easy to drive; visibility from the helm was great, and the door next to the helm opened to the starboard side deck, making line handling easy. Best of all, the single 425-hp Cummins diesel produced an all-day-long comfortable cruising speed of 16 knots, consuming just under 16 gph. The 34 was a solid-running, fuel-efficient, long-range cruiser on a semi-planing flared hull, and its modern French looks drew second- and third-looks everywhere we went.
The new Swift Trawler 35 has the same engine, so the performance should be the same, but it seems to have more windows to let in lots of natural light. The U-shaped galley on the port side opposite the helm has been redesigned a bit, there's a new awning that extends from the flybridge out over the cockpit, and the flybridge itself comes with either a soft top or a Bimini, both with built-in LED lights.
Specs.: LOA: 37'0"; Beam: 13'0"; Draft; 3'8"; Disp.: 18,187 lbs.; Water: 80 gals.; Fuel: 211 gals.; Power: 1×425-hp Cummins diesel. For more:
http://www.beneteau.com/us/swift-trawler/swift-trawler-35
CUTWATER 30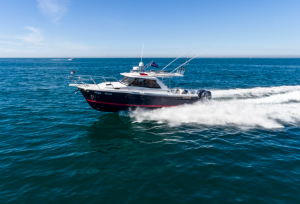 The trend toward outboard power keeps getting stronger and stronger. Now Cutwater Boats is introducing a new 30-footer with twin Yamaha 300-hp outboards because, says Cutwater President John Livingston, "We've had customers asking us to build a boat like this for a while now." Livingston also says the new boat is "our biggest, fastest and most exciting Cutwater to date. The boat absolutely screams across the water."
I haven't tried the new 30 yet, but two summers ago I drove a Cutwater 28, with a single 260-hp Volvo diesel, from New York Harbor to Quebec City, and it cruised easily at about 16 or 17 knots. I think the new 30 with 600 horsepower would easily double that, particularly since Cutwater redesigned the hull to accommodate the higher speed. The new boat has a fuel-efficient, double-stepped hull to get the boat on plane faster and what Cutwater calls a Laminar Flow Interrupter to make for positive turning at speed.
The 30 sleeps six people in three separate areas. The forward cabin has an island double berth, a hanging locker, four portlights in the hull sides and an opening hatch overhead. The master head has a vanity, toilet and separate shower with a curved sliding door. Two more people can sleep on the convertible dinette, while two more can fit in a 6'8"-long cabin that's tucked under the raised dinette.
The cockpit is made for fishing with a 30-gallon live well and large fish boxes, but it doubles as an entertaining center, with seats that extend out from the hull sides and a drop-in BBQ grill, sink and shower. On the foredeck, two flush hatches open up to reveal cushioned seats with a forward lounge.
As with all Cutwaters, the new 30 comes ready to cruise, with bow and stern thrusters, a nav package that includes a Garmin autopilot, Garmin 7612 GPS/chartplotter andGarmin radar, plus a 5-kW gas genset and Kyocera solar panel. The boat also is trailerable with a bridge clearance of 9'9" with the mast down; its height on a trailer is 13'2". The Cutwater line now goes from 24 to 30 feet; all the boats are made in Washington state.
Specs: LOA: 30'; Beam: 10'; Draft: 2'5"; Disp.: 10,200 lbs.; Fuel: 300 gals.; Water: 80 gal.; Power: 2xYamaha 300hp counter-rotating outboards. Price: $299,937.
GRAND BANKS 60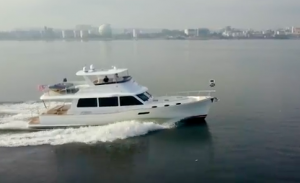 The all-new, light-weight, high-performing Grand Banks 60 will make its U.S. debut at the Newport Show. The three-stateroom, two-head classic cruiser will be the flagship of the Grand Banks Heritage fleet, which had topped out at 54 feet. Built under the leadership of Grand Banks (and Palm Beach) CEO Mark Richards, the new 60 is stronger and lighter and made with more sophisticated materials than any previous Grand Banks, reflecting Richards' decades of experience as one of the leading sailboat racers in the world.
A totally reimagined Grand Banks, the new 60 has a low center of gravity and impressive balance for a comfortable and fuel-efficient ride throughout the speed range. It has a warped hull shape with a fine entry and only 8 degrees of deadrise at the transom. The deck and flybridge are carbon infused, while all vinylester resins and a cross-linked Corecell foam core all make for a highly efficient power-to-weight ratio. Monocoque construction bonds all the bulkheads and interior furniture directly to the hull and deck for extra strength and extra quiet.
Designed to be operated by an owner/couple, the owner's stateroom is full-beam, midships, and separated from the engine room by a full-beam utility room. The new beauty has a large, protected flybridge, and an extended boat deck provides weather protection over the aft deck below. For cruising safety, the side decks are wide and the bulkwarks are high. The new 60 carries a CE Category A rating.
Inside, the salon, galley and  helm are all on the main deck, and the salon is unusually bright, with light from the wraparound effect of huge windshield panels, side windows and the rear window and door. The galley has Silestone solid surface countertops.
The boat has the flowing, contemporary looks to become a modern classic. The lines and proportions all seem just right. And the new 60 has all the world-class fit and finish that have marked Grand Banks for decades.
Standard power comes from two 725-hp Volvo D-11 diesels. Top speed is about 32 knots. At trawler speeds, the boat is remarkably fuel efficient. At 750 rpm and 9.5 knots, the Grand Banks 60 has a range of more than 2,900 nm with a 10 percent fuel reserve. And it's also quiet, registering just 66 dB(A), about the range of normal conversation, at the helm at 18 knots.
Specs.: LOA: 66'10"; Beam: 19/2"; Draft: 4'7"; Disp.: 63,900 lbs.; Fuel: 1,530 gals.; Water: 370 gals; Power: 2×725-hp Volvo Penta D-11 diesels.
GREENLINE 39 HYBRID

Operating in two cruising modes, the Greenline 39 Hybrid can run under its 220-hp Volvo diesel at an 11-knot cruising speed, topping out at 18 knots, or under its electric power at 4 knots, topping out at 6.5 knots. Under diesel power, range is 1,000 nm at 7 knots; under electric power, however, range is only 20 knots. What this means is that under its green, electric, low-carbon footprint, the Greenline 39 Harbor can cruise around a harbor or two, or enter a quiet anchorage at night, silently and efficiently.
Either way, the Greenline 39 is a low-profile, light-filled, two-stateroom, one-head cruising boat with a fold-out transom that extends the swim platform to give more open space to the cockpit and make watersports super-accessible. A flip-up window opens the galley aft to the cockpit, making it easy to serve food and drinks inside and out. To maximize space inside the salon, the Greenline designers made the side decks asymmetrical; the port side is quite narrow, while the starboard side is wide enough to make going forward easy and comfortable.
Four solar panels on top of the salon can power all systems on board for three hours in the electric mode. The Volvo diesel connects to a Mahle electric drive system. A clutch allows the boat to be powered by diesel alone, or electric alone. The diesel and an electric motor connect to a bank of rechargeable lithium battery packs. Built in Slovenia, the Greenline 39 Hybrid will be available in the U.S. early next year.
Specs.: LOA: 39'6"; Beam: 12'3"; Draft: 2'11"; Disp.: 16,535 lbs.: Fuel: 185 gals.; Water: 80 gals.; Power: 1×220-hp Volvo D3 diesel and 10 kW electric motor. Price: $359,000. For more:
HAMPTON ENDURANCE 658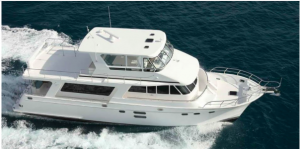 A high-quality, unusually spacious, long-range cruising boat, the Hampton Endurance 658 is designed to be run by a couple, and it's designed with redundant systems throughout to keep them safe at sea. And if they want to cruise with a large family, or entertain a crowd back in port, there's plenty of room for that too.
The Hampton Endurance 658 essentially is a three-stateroom, two-head cruiser, but it also has a crew cabin, which you reach via stairs from the aft port side of the salon, with another head, separate shower and small galley. It's just aft of the large stand-up, user-friendly engine room, where there's space all around the twin 1,000-hp Cat 12.9 diesels. The boat's in-line backup systems include a spare genset, dual Racor fuel filters, water pumps and twin PTOs for hydraulics.
The salon is bright with windows all around. Two lounge chairs and a TV are on the port side, across from a sofa that's also a pull-out queen berth. The fit, finish and craftsmanship are excellent. The galley is two steps up and is filled with home-style GE appliances; it has a breakfast bar with three chairs. All the way forward on this boat, the Compass Rose, is a large U-shaped dining table that offers guests great views forward and on either side. Two ship's doors lead to the side decks, while on the port side interior stairs lead up to the flybridge for safety underway.
The aft deck has twin wing stations, port and starboard, for docking, with controls for the engines and bow and stern thrusters. There's a day head here (the fourth on the boat), and a fridge is under a gleaming teak table. Forward, a Portuguese bridge offers another spot to relax or enjoy the passing scene.
Up top, the fully enclosed and air-conditioned flybridge is massive, with three helm chairs, an L-shaped lounge and teak table. The boat deck holds an AB inflatable with a 40-hp Yamaha and a Steelhead crane.
On the accommodation deck, the midships, full-beam master has a king-sized bed and lots of closets and moving-around space. The head is aft, and full-beam, with his-and-hers toilets, separated by a large, frosted-glass shower in the middle. A VIP stateroom with a queen-sized bed is in the bow, and a guest cabin, with either convertible twins or a queen bed, is to port. A large head with shower is across to starboard.
The 658 has a hybrid, semi-displacement hull, designed by Howard Apollonio, to make it efficient across the speed curve. The boat has a range of 1,300 nm at 8.5 knots, and tops out at about 20 knots. It burns only 24 gph at 14 knots.
Specs.: LOA: 68'0"; Beam: 18'0"; Draft: 5'2"; Disp.: 102,500 lbs.; Fuel: 1,750 lbs.; Water: 400 gals.; Power: 2×1,000-hp CAT 12.9 diesels.
HINCKLEY PICNIC BOAT 37 MK111
The newest iteration of the iconic Picnic Boat, the new Hinckley 37 MK111 is larger, faster and more comfortable than ever before. The new 37 has all the gorgeous lines of the original, but it now offers a cruise speed of 32 knots and, powered by twin 370-hp Yanmar diesels and Hamilton jet drives, it tops out at 35 knots.
Hinckley launched its first Picnic Boat, Dasher, in its yard in Southwest Harbor, Maine, in 1994. It was 36 feet long, driven by a single diesel and it had water jet drives, so that you wouldn't snag a prop 0n Maine's many lobster pots, while you could take the boat up to a beach or sandbar for a picnic outing. The boat set a new standard for aesthetics; the lines, drawing from its Maine lobster boat heritage, were flowing and beautiful, with a sweeping sheer and an eye-catching tumblehome. And there was teak everywhere, glistening from up to ten coats of varnish. (My wife and then-young daughter were with me when I tested Dasher, and they've wanted a Hinckley ever since.)
The new MK111 has all that, plus. Michael Peters designed a new hull, at 37 feet, and added enough beam to hold the twin engines. He also deepened the deadrise from 15 degrees at the transom to 19 degrees, to make the boat more comfortable in a seaway. And the boat has Hinckley's patented JetStick 11, for fingertip control and easy docking.
Visibility from the helm is excellent all around, and you can push a button to open the large side windows and the overhead hatch for more ventilation, if you want. The captain and mate have Stidd helm seats. The engines are completely below deck; the entire deck lifts for access.
The Picnic Boat has always been a social boat. The 37 has a bench seat across the transom plus two rear-facing seats forward, leaving the large cockpit open. Forward, down two steps, the cabin has standing headroom, a surprise given the boat's low profile, a V-berth in the bow, a large head with shower to starboard, and a galley to port. The new 37 has a SCRIMP Carbon E-glass composite hull with Corecell foam core and vinylester resin.
Specs.: LOA: 36'11"; Beam: 11'3"; Draft: 2'1"; Disp.: 16,100 lbs.; Fuel: 220 gals.; Water: 40 gals.; Power: 2×370-hp Yanmar diesels and Hamilton Jet drives.
HUNT 72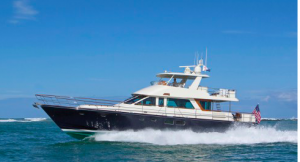 The beautiful Hunt 72 was  named Best Powerboat at the Newport show last year, a particularly significant honor given competition from several other important and eye-catching new boats. But once you climb on board the Hunt, it's easy to see why it was chosen. The classic lines are gorgeous; the proportions are just right, the sheer is long and graceful; standing on the aft deck and looking forward the teak side deck and railing seem to stretch on forever. Then there's the 72's exquisite fit and finish and virtually entire forests worth of varnished teak inside and out, not to mention the legendary Hunt deep-V hull that ensures safety and performance in all kinds of sea conditions. All in all, the boat took 80,000 man-hours to build.
The latest in Hunt's Ocean Series of luxury offshore yachts, the 72 has three staterooms with ensuite heads (plus a crew cabin), an elegant salon, granite countertops throughout, a large aft deck and an expansive flybridge that's accessible from the aft deck or from an interior staircase from the salon. The midships, full-beam master has a king-sized bed, a walk-in closet, a settee, lounge chair and extra space all around. For privacy, the crew cabin is accessed by stairs from the aft deck; it's just aft of the engine room.
And the Hunt 72 performs. Powered by two CAT 1900-hp diesels tops out at 34 knots. Range at 20 knots is 400 nm, with a 10 percent fuel reserve. The boat has bow and stern thrusters, automatic trim and list controls, and the new CAT fingertip joystick for easy maneuvering around a dock.
Specs.: LOA: 71'3"; Beam: 19'6"; Draft: 5'5"; Disp.: 125,000 lbs.; Fuel: 2,050 gals.; Water: 490 gals.; Power: 2×1900-hp CAT C32 diesels.
JEANNEAU LEADER 33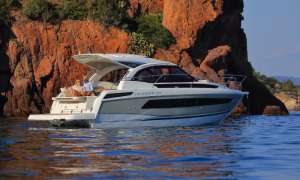 The new Leader 33 has some of the most creative uses of space, both in the cockpit (which simply flows into the helm deck) and the master stateroom (which converts into a below-deck social area) that I've encountered in recent memory. To give owners even more choices, the Leader 33 has various gas and diesel power options that range from MerCruiser sterndrives to Volvos with a joystick.
You step on board the new Leader, made by Jeanneau, the prestigious French builder, through a small stainless-steel swinging gate leading from the starboard side of the large swim platform into the cockpit. In the cockpit, to port, starting at the transom and then going way forward, is an inviting U-shaped settee/lounge, which serves as the boat's main social area. It's centered around a wooden, hi-low table on a stainless-steel pedestal; it can be covered with a filler to create a very large sun pad. The seat at the forward end flips back in a companion mode so the guest can face forward; when it's flipped forward, the seat becomes part of the dinette/sun pad. A refreshment center is on the starboard side of the cockpit. The concept here is that the cockpit and the helm deck all flow together in one large social space.
Three steps down, the accommodation deck also offers another space conversion. The master stateroom in the bow can be closed off for privacy by a pocket door. But with the door open, you can remove the foot end of the mattress and replace it with cushions to create a mini-salon seating area that's open to the galley, on the port side. The head, with shower, is to starboard. The guest cabin is behind the stairs with two berths than can slide together to form one larger berth; a love seat is on the port side.
For power, the owner has a choice ranging from twin 250-hp MerCruiser gas sterndrives to twin 220-hp Volvo diesels with a joystick. Top speed with the Volvos is about 29 knots.
Specs.: LOA 34'7"; Beam: 10'10"; Draft: 3'1"; Disp.: 10,829 lbs.; Fuel: 137 gals.; Water: 46 gals.; Power options: 2xMerCruiser 250-hp gas; 2xMerCruiser 300-hp gas; 2xVolvo 220-hp diesel; 2xVolvo 220-hp diesel with joystick. Base price, with smaller MerCruisers: $280,000.
KADEY-KROGEN 52
Boats don't come much saltier, or more bullet-proof, than Kadey-Krogens. And the new 52, a go-anywhere-in-the-world displacement trawler, promises to be no exception. A traditional long-range cruiser, the 52 has a raised pilothouse, Portuguese bridge, large protected cockpit, and spacious accommodations to make living aboard almost as comfortable staying at home – except that the passing view will be much more interesting.
You enter the large salon through a weathertight door from the cockpit. Forward, on the starboard side, is gourmet galley with a full-size Jenn-Air fridge and four-burner Viking range with oven. Another weathertight Dutch door leads to the side deck. On the port side of the salon, stairs lead up to the pilothouse, with a teak wheel, dual helm chairs, and an aft settee that converts to a watch berth when you lower the teak table. More weathertight Dutch doors lead to the side decks.
The 52 comes in a two- or three-cabin arrangement, with the master either forward or midships. With two cabins, you'll have an additional dedicated office space. Both the master and guest staterooms have heads with stall showers. Since Kadey-Krogens are made for long range cruising, you won't have to leave anything at home; there is storage space everywhere.
A single 231-hp John Deere diesel tops out at 9.6 knots, but the 52's range is remarkable. At 9 knots, range is 1,700 nm; at 7 knots, it's 3,300 nm. For comfort underway, the Kadey-Krogen 52 has a 5,300 pounds of encapsulated lead ballast. And the new 52 has the benefit of completely new tooling. Specs.: LOA: 52'8"; Beam: 17'3"; Draft: 5'5"; Disp.: 70,000 lbs.; Fuel: 1,400 gals.; Water: 400 gals.; Power: 1x 231-hp John Deere diesel.
KROGEN EXPRESS 52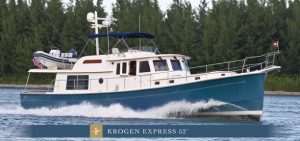 Even with a flying bridge and raised pilothouse, the Krogen Express 52 manages to carry a classic low profile, enhanced by a long, flowing sheer line that emphasizes the boat's distinctive profile. And the "Express" part of its name is not a misnomer: With twin 480-hp Yanmars the Krogen Express tops out at about 22 knots. Dial back to 8 knots and the boat has a range of 1,680 nm. With a semi-displacement hull, this express offers the best of a get-home-fast speed and a go-anywhere-without-refueling range.
Inside, the Krogen Express exudes fine craftsmanship and cherry finishing everywhere. A raised bench seat aft of the helm in the pilothouse converts to a double berth; Dutch doors open to the wide side decks. Below, the master in the bow is bright, with six portholes and hatches, and massive, with 7'4" standing headroom; an en suite head has a separate shower stall with a seat. A guest stateroom can be configured as an owner desires, including an L-shaped settee that converts to a bed plus a desk. The engine room is one of the best in the business; you can stand up and walk around. Specs.: LOA: 57'6"; Beam: 15'11"; Draft: 4'0"; Disp.: 43,000 lbs.; Fuel: 700 gals.; Water: 370 gals.; Power: 2×480-hp Yanmar diesels. Price: $1.6 million.
MANCHESTER 29


Take a good look. Have you seen this boat before?
Well, yes, at least a lot of it. Think of a Blackfin Combi, circa 1991, one of the best-riding sea boats ever. Back then Blackfin and its major competitor Bertram were building rock- solid boats with deep-V hulls that earned reputations for taming oceans.
But that was then and this is now. Now, this great-looking inboard cruiser, introduced in February at the New England Boat Show in Boston, is a brand-new Manchester 29, built by Crocker's Boat Yard in Manchester-by-the-Sea, Massachusetts. And everything about the boat is new – except for the hull. And that's the '91 Blackfin.
A new company, Manchester Yachts is remanufacturing old Blackfin hulls into new boats with a Downeast twist and new-and-improved parts, equipment and interiors. Manchester took the old hand-laid fiberglass Blackfin hull and stripped it bare, replaced the wiring, plumbing, seacocks and fuel system, installed two new 375-hp Crusader engines and – voila – produced the new Manchester 29.
Manchester didn't do all this on its own. It enlisted Doug Zurn, the Marblehead, Mass., designer, to redesign the teak windshield and seating, and Onboard Interiors, also from Marblehead, to work on the interior. The new Manchester 29 has a V-berth that converts to a dinette with a teak table, a small galley with fridge, and an enclosed head.
The hull still has a 23-degree deadrise at the transom; Manchester says the boat should cruise at 17 knots. It comes with a five-year hull warranty and a two-year engine warranty. After the 29, Manchester also will work on Blackfin 32s.
Specs.: LOA: 33'0"; Beam: 10'6"; Draft: 3'6"; Disp.: 12,000 lbs.; Fuel: 205 gals.; Water: 30 gals.; Power: 2×375-hp Crusader gas engine.
MJM 35Z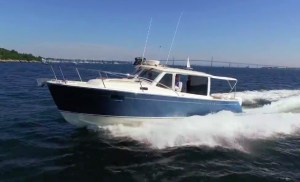 Just launched in June, the MJM 35Z will make its debut at the Newport show. The latest in the collaboration between Doug Zurn, the designer, and Bob Johnstone, the founder of MJM Yachts, the new 35z is powered by two 300-hp Mercury Verado outboards, giving it both speed and power, while keeping the fuel-efficiency for which the brand is famous.
It's no surprise that the new boat has all the classic Down East lines of earlier MJMs, with its low profile, gentle tumblehome and long sheerline. Or that it's a serious offshore boat, with a 20-degree deadrise at the transom and an ISO Certified B "Offshore" rating for stability and seaworthiness.
The boat is a typical long, low, slender Zurn design, with a 3.5-1 waterline length to beam ratio. MJM's wet, pre-preg, post-cure, epoxy composite construction makes for a stronger and lighter hull. And the MJM 35Z performs. On a recent test ride on Narragansett Bay with Johnstone and George Day, our publisher, we registered just over 39 knots as a top speed, and the boat gave a remarkably soft ride throughout the speed range. With its Seakeeper gyro stabilizer, it also was comfortable, even when we put it beam-to the waves.
A former sailor himself (and the co-founder of J/Boats), Johnstone knows what sailors are looking for in a powerboat. The bridgedeck is protected by sliding glass or roll-up Strataglass sides; side boarding doors make stepping on board easy from a floating dock. The transom is open, and it's all one level from the swim platform to the companionway. The two windshields open for ventilation. At night, the bridgedeck doubles as a cabin with settees converting to two full-length berths surrounded by a privacy curtain. Matching Stidd Admiral helm seats on swivel bases can be turned to face aft for socializing at the dock or at anchor.
The 35z is meant to be used as a day boat or weekend cruiser. The interior is in the classic Herreshoff style with cherry-trimmed, off-white panels, and a teak and holly sole. The galley is to port, with Corian countertops. The Ultraleather V-berth lounge is forward, with an optional filler. And the head with shower is to starboard.
Specs.: LOA: 35'8"; Beam: 11'0"; Draft: 2'8"; Disp.: 12,614 lbs.; Fuel: 250 gals.; Water: 58 gals. Power: 2×300-hp Mercury Verado outboards. Base price: $595,000.
NORDHAVN 59 COASTAL PILOT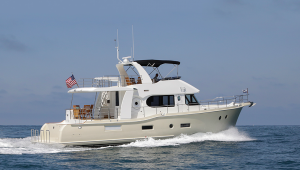 Hull number one of the 20-knot Nordhavn 59 Coastal Pilot will make its East Coast debut in Newport. This three-stateroom, two-head Nordhavn, which tops out at twice the speed of previous Nordhavns, is the first to be built for coastal cruising, as opposed to the open-ocean, blue-water boats that have made the company famous. "This is a boat for people who don't need ocean-crossing capabilities," says Jim Leishman, vice president of PAE, Nordhavn's parent company.
Designed for owners moving down from larger blue-water boats, or others just getting into coastal cruising, the 59 Coastal Pilot was launched at Nordhavn's Dana Point, California, headquarters last summer and then displayed in Seattle. Earlier this summer a Nordhavn crew brought it back south, where it was loaded on a freighter for delivery to the East Coast. After the Newport show, the 59 Coastal Pilot also will be displayed at the Annapolis power show in October.
Powered by twin 715-hp Cummins QSM 11 diesels, the 59 has a fuel efficient, semi-displacement hull that tops out in the 18-20 knot area; if you dial back to 8.5 knots, the range is about 1,000 nm. Although it's a coastal cruiser, the new 59 is still built like a little battleship, per Nordhavn's tradition. The boat has a CE – Category A unlimited offshore rating for its sea-keeping abilities and strength.
In the new 59, the main deck consists of a salon, large galley and dinette with a lower helm (not a separate, raised pilothouse). The helm has a double-wide seat, with an L-shaped settee, seating four, to port. The dinette table is aft of the helm. The raised aft deck is protected by an overhang from the flybridge, and can be enclosed with canvas or Isinglass. The flybridge has seating for up to 12 people, with twin settees on each side of the helm. The boat deck aft has a Steelhead 800-pound davit and can hold a 14-foot tender.
Access to the engine room is from a door on the port side of the cockpit. The engine room is separated by two structural and insulated bulkheads, and has Nordhavn's usual standing headroom and walk-around space on the inboard and outboard sides of the engines.
On the accommodation deck, the 59 Coastal Pilot is designed for either two or three staterooms, with two heads. This boat has the three-stateroom arrangement, with the owner's stateroom full-beam amidships, with two comfortable chairs, an en suite head with dual sinks, a large shower and an equally large linen locker. A separate laundry is forward. A large VIP cabin is forward, and the third cabin, with three berths, is between the VIP and the master. The VIP and the third cabin share a head with shower.
Specs.: LOA 58'9"; Beam: 17'0"; Draft: 4'2"; Disp.: 82,000 lbs., Water: 444 gals.; Fuel: 1,100 gals. Power: 2x 715-hp Cummins QSM 11 diesel engines.
NORDIC TUGS 44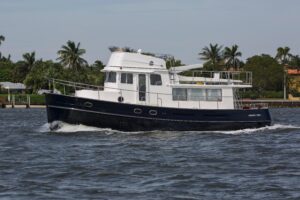 There's no mistaking a Nordic Tug. The iconic salty tugboat lines, even down to the faux smokestack, have identified the brand ever since the first one, a 26-footer, was introduced at the Seattle boat show in 1980. The new Nordic Tugs 44, which replaces the popular 42, has all the personality, performance and solid sea-keep abilities of its predecessors.
Nordic Tugs are built in Burlington, Washington, for serious cruisers, people who will go up the Inside Passage to Alaska or from Maine to Miami and the Bahamas as a matter of course. The 44 has a two-stateroom, two head layout with a large salon and U-shaped galley, a raised pilothouse (with doors leading directly to the side decks), and an optional flybridge. There's inside access to the bridge from the pilothouse, for safe and comfortable cruising. The master stateroom in the bow is exceptionally large and comfortable, with more than 7-foot headroom. And almost as an extra surprise, an office/nav station is opposite the guest stateroom with a desk, leather chair and plenty of room for electronics and charts.
I drove a new 44 recently on the Connecticut River off Essex, home of Wilde Yacht Sales, Nordic Tugs' largest dealer. With a full keel and large rudder, the boat tracked well, handled easily and was a solid, fuel-efficient performer. Top speed, with a single 510-hp Volvo diesel, was 17 knots. At 7.5 knots, the boat has a range of 1,400 nm.
Specs.: LOA: 44'8"; Beam: 13'10"; Draft: 4'6"; Disp.: 31,400 lbs.; Fuel: 600 gals.; Water: 175 gals.; Power: 1×510 Volvo diesel. Base price: $844,688.
OUTER REEF 610 MOTORYACHT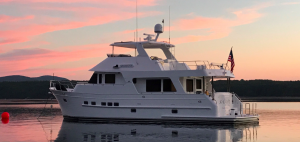 Designed to be run by a cruising couple, the new Outer Reef 610 Motoryacht is spacious, fuel-efficient and easy to maneuver. Indeed, in early July hull number one carried its new owners, a couple from Newport, Rhode Island, on a shakedown cruise from Fort Lauderdale up to their home in five days with just two pit stops, although they had a captain from Outer Reef to help them get acquainted with the boat. Then they cruised New England waters for the rest of the summer themselves. That boat will be displayed in Newport.
The heart of the Outer Reef 610 is the pilothouse, with its adjoining galley and weathertight doors leading to the port and starboard side decks. It has an L-shaped settee on a raised platform (a great place to enjoy the passing view), with a teak table on a stainless-steel pedestal. There's a Stidd helm chair and a custom Outer Reef wood steering wheel. A curved teak stairway leads to the accommodation deck below. Forward is a Portuguese bridge with seating and a hinged door to the foredeck.
The salon is large and comfortable with an L-shaped settee and a teak coffee table. Teak is everywhere, on the cabinetry, lockers and wall paneling. The galley has a teak and holly sole, as well as Corian countertops, freezer and fridge, an electric cooktop and oven, a microwave and a dishwasher.
Below, the full-beam master is midships with a centerline king bed, an L-shaped, walk-in closet, teak end tables and a large en suite master head with Corian countertops, large shower, and a teak and holly sole. The VIP stateroom is forward with a queen bed and two hanging lockers. The guest cabin is to port with side-by-side twin berths and one hanging locker. The guest head is large with a glass shower door and access from the VIP stateroom or the lower hallway.
The flybridge has a Stidd helm chair facing a stainless-steel destroyer wheel; two L-shaped settees provide lounging space. Stairs on the starboard side lead down to the pilothouse. A 1,000-pound davit is on the boat deck. The aft deck is protected by an overhang from the flybridge to make alfresco dining comfortable, and a large swim platform gives access to water sports.
Specs.: LOA: 61'2"; Beam: 17'2"; Draft: 5'0"; Disp.: 93,000 lbs.; Fuel: 1,000 gals. Water: 300 gals.; Power: 2×500-hp John Deere diesels.
PALM BEACH 65

This Newport show will be a repeat performance for the Palm Beach 65, which is made in the joint Palm Beach/Grand Banks factory in Malaysia. A luxurious – and beautiful – three-stateroom, three-head boat designed by world champion sailor Mark Richards, the Palm Beach 65 can be ordered with Volvo IPS pod drives or with straight shafts. This particular boat is powered by Volvo D-13 900-hp diesels with shaft drives; bow and stern thrusters make maneuvering easy. I tested this boat recently on Long Island Sound and it topped out at 30.2 knots; the ride was remarkable with the bow barely rising as the big boat came up to speed and the hull – a semi-displacement affair designed by Richards – barely leaning as the boat carved 25-knot turns.
The Palm Beach 65 is much more than just another pretty boat, although one with gorgeous lines and world-class teak accents everywhere. Push a button and the transom lifts up to display a 10.5-foot RIB in the garage. From the helm, push other buttons and the side and back windows power down. The galley is huge, as is the master stateroom, with a king-sized bed and separate laundry room (the owners plan on living on board in the Bahamas).
Specs: LOA: 70'; Beam: 19': Draft: 3'6"; Disp.: 50,700 lbs.; Fuel: 1,320 gals.; Water: 336 gals.; Power: 2x D13 Volvo diesels. Base price: $3.4 million.
PRESTIGE 460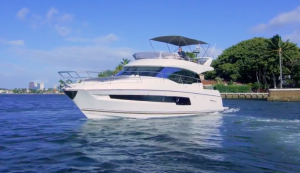 Just launched at the Yachts Miami Beach show in February, the new Prestige 460 flybridge has the same French lines, creative use of space and large amounts of natural light that have become the company's hallmarks. Nick Harvey, president of Prestige America, says the two-cabin, two-head cruiser "is the perfect size with outstanding performance and exceptional accommodations."
Prestige makes five flybridge boats, from 42 to 56 feet, all using Garroni Design with engineering from JP Concepts. Part of the powerhouse Beneteau Group, Prestige was created more than 20 years ago. Since then, it has sold more than 2,500 yachts worldwide. With its raked windshield, radar arch and low profile (even with the flybridge), the new 460 carries an aggressive contemporary look that fits into the Prestige mold.
You step into the boat from the port side of the large swim platform. The cockpit has a large L-shaped settee across the transom and partially down the starboard side, for easy lounging or entertaining. The cockpit is well protected by an overhang from the flybridge. In the salon, the aft galley serves guests inside and out, while there's a large L-shaped settee forward to port, opposite the helm, and a smaller settee behind the helm to starboard. Large windows all around let in lots of light.
Four steps down, the accommodation deck features a full-beam master stateroom midships. It's large enough for a settee on the starboard side; the hullside windows make the stateroom seem bright and open. The guest stateroom is forward.
The flybridge serves as a major social and sunning area (although there's a sunpad on the bow too), with a large L-shaped lounge aft and another lounge forward on the starboard side, opposite the helm to port.
Power comes from twin Volvo diesels. Owners have a choice of 370-hp Volvo IPS500s or 435-hp Volvo IPS600s. The boat tops out at about 30 knots, and cruises at 22 knots.
Specs.: LOA: 46'10"; Beam: 13'11"; Draft: 6'7"; Disp: 27,366 lbs.: Fuel: 328 gals.; Water: 106 gals.; Power: 2x Volvo IPS500s or 2x Volvo IPS600s.
RANGER TUGS R-31 CB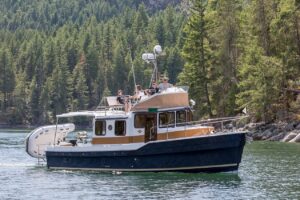 The flagship of the Ranger Tugs fleet, starting at 21 feet, the new Ranger R-31 CB (for Command Bridge) is trailerable, meaning you could cruise one part of the Great Loop, say, this summer, bring the boat back home and start off where you left off next year. And you probably won't have to worry too much about highway bridges. The flybridge folds down to reduce air draft on a trailer to 13'2"; you just unlock the canvas cowling, drop the inner supports and fold it flat.
Ranger Tugs are run by the father-son team of David and John Livingston in Kent, Washington, and they have more experience building boats than just about anyone else on the planet. (Their company, Fluid Motion, LLC also builds Cutwater Boats). David Livingston designed boats for Wellcraft, Regal and Fountain, among others, and was the head of Bayliner when the company was making 56,000 boat a year.
The Ranger 31 has two staterooms and a convertible dinette and lots of innovations. A reversible settee across the transom lets passengers sit facing forward or aft, while gull-wing seats fold out of the cockpit hull on both sides. The flybridge seats four and is reached by stairs, not a ladder. Garmin GPS units are standard for the bridge and lower helm stations, as are bow and stern thrusters.
Specs.: LOA: 31'2"; Beam: 10'; Draft: 2'4"; Disp.: 11,500 lbs. Fuel: 180 gals.; Water: 80 gals.; Power: 1×300-hp Volvo D4 diesel.
RELIANT 40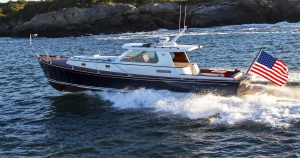 The Reliant 40 is the first boat launched by two familiar faces in Newport and two of the most respected names in the business: David MacFarlane, the former president and CEO of Alden, plus Cal, Ranger and Rampage, and Jim Ewing, the former executive VP of Alden and president of Trumpy. Their new Reliant Yachts company is based in Newport, although the boats are made by Su Marine in Turkey. They know that things have changed in their 40 or so years in business, but MacFarlane says that "What hasn't changed is the boating public's passion for a beautiful boat."
And, with its traditional Downeast styling, including a gorgeous tumblehome, wide teak decks, low profile and long sheer line, the new Reliant 40 is beautiful indeed. The fit and finish is elegant throughout. The large cockpit has an aft settee facing an inlaid teak table and two aft-facing seats. The helmdeck, protected under a hardtop, has settees on each side, as in a sailboat. Below, the galley to port has marble countertops, a two-burner stove, fridge and microwave. The master, with a queen-sized bed, is forward, with the head to starboard with mahogany finish and a large separate shower.
Powered by two 320-hp Yanmar diesels and straight shafts, the Reliant 40 cruises at 24 knots and tops out at 30. The hull is super-efficient: At 24 knots, the boat burns 24 gph.
Specs.: LOA: 40'3"; Beam: 11'3"; Draft.: 3'7"; Disp.: 16,800 lbs.; Fuel: 290 gals.; Water: 80 gals.; Power: 2×320-hp Yanmar diesels.
SABRE 45 SALON EXPRESS
Newport is the first show for the new Sabre 45 Salon Express, which was launched in Florida this spring. The new Down East classic had its first sea trials off Jupiter Inlet, where the Sabre engineers said the waves were stacked, as is often the case there. But the new Sabre came through with flying colors, running 27.5 knots at a continuous cruise speed, burning just 35 gph. It topped out at 32 knots, burning 44 gph. Like many of its predecessors, this new Sabre is a quiet boat, registering just 72 dB(A) at cruise and 75 dB(A) at wide open throttle.
The 45, fitting between the company's existing 42- and 48-foot models, is an all-new design with two staterooms, two full heads, and the built-in-Maine lines and craftsmanship that help define all Sabres. The master stateroom is forward, with an island bed and several lockers and drawers for storage (this is a cruising boat, after all); the master head has a separate stall shower and ceramic tile on the sole. The guest cabin is on the starboard side, under the helm. It has twin beds on tracks so you can slide them together to form a single island bed if you want.
Aft the guest stateroom is a new storage room with space for a gyro-stabilizer, a washer/dryer, freezer or even a wine cellar. All the way aft, the cockpit is protected a bit by the overhang from the cockpit; an optional SureShade would provide full protection over the cockpit. A large bench seat is aft, against the transom, with a folding inlaid table for drinks or sandwiches.
Power comes from two 435-hp Volvo diesels, paired to IPS drives for fingertip control over slow-speed maneuvering and docking. The Sabre fleet now runs from 38 feet to 66 feet.
Specs: LOA: 49'0″; Beam: 14'8″; Draft: 3'9″; Disp.: 37,000 lbs.; Fuel: 450 gals.; Water: 150 gals.; Power: 2/435-hp Volvo D6 engines with IPS pod drives.
VICEM 46IPS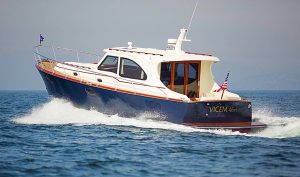 Vicem Yachts, the Turkish builder that's been specializing in using marine mahogany in the cold-molded construction process since 1991, just introduced its first fiberglass/epoxy model, the Vicem Classic 46IPS, at the Palm Beach International Boat Show. And, no surprise, it's a beauty, both outside and in. The joinerwork is simply elegant.
Designed by Vicem's in-house team, the boat carries classic Downeast lines that just as easily could have been drawn in Southwest Harbor, Maine. The Classic 46IPS is powered by two 435-hp Volvo IPS 600s, offering joystick control and pod drives for easy maneuvering around the docks and greater fuel efficiency at higher speeds. The boat has a hard-chine hull and cruises at 26 knots and tops out at about 30 knots.
As with all Vicems, the new Classic 46IPS can be highly customized, with either two or three cabins below, accommodating either four or six people. The galley is down, with Corian countertops, two electric burners and a microwave. The owner's cabin has a queen-sized bed and a head, also with Corian countertops, and a shower. The guest cabin comes with two single berths that can be joined to make a single queen; its head also serves as the day head.
The cockpit has a teak sole and a custom table with a hydraulic lift. A sliding glass door separates the cockpit from the salon, which has large side and front windows that provide a lot of natural light. The salon also has a bar area and a comfortable L-shaped settee. A side door gives easy access to the starboard deck to make docking easy. For keeping the air conditioning running underway, the new Vicem comes with a 13.5kW Onan genset. On its first sea trial, the new Vicem was a very quiet boat, registering only 62 dB(A) at 25 knots.
Specs.: LOA: 46'0″; Beam: 14'9″; Draft: 2'4″; Disp.: 39,683 lbs.; Fuel: 500 gals.; Water: 200 gals.; Power: 2×435-hp Volvo IPS 600s.
ZEELANDER 55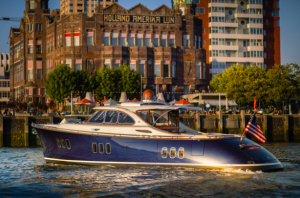 The Dutch-made Zeelander 55, an upgrade from the company's popular 44, is a head-turning, luxurious express-type cruiser with hints of both a Down East lobster boat and a Gold Coast commuter boat while announcing a style all its own. From its fine bow to its torpedo stern, the Zeelander 55 is as contemporary as it can be. It's all curves; there doesn't seem to be a straight line anywhere.
One of the most striking aspects of the Zeelander 55 is the 360-degree view from the helm; actually, from anywhere in the salon. The wraparound windows have narrow frames and double-curved glass and they stretch aft to a fully opening glass wall that, when closed, separates the salon from the aft deck.
In the salon, a raised L-shaped lounge behind the helm can seat eight, all under more light coming in from the sunroof. On the aft deck, one social area includes a wet bar with four stools, while all the way aft is another relaxing area for outdoor dining or sunbathing. There's a side door for easy entry to the boat on each side of the cockpit, while the transom folds down to create a huge swim platform.
Below, the master stateroom is midships, with a walkaround bed running athwartships. The master head with shower is on the port side. A large VIP stateroom is forward, also with a walkaround bed and lots of storage. A guest cabin with over-and-under berths is between the two. The guest and VIP cabin share a head with shower.
Two Volvo IPS 1200 pod drives power the boat to a top speed of 40 knots.
Specs.: LOA: 55'7"; Beam: 16'4"; Draft: 4'5"; Disp.: 48,000 lbs. Fuel: 700 gals.; Water: 200 gals.; Power: 2×800-hp Volvo Penta IPS diesels with pod drives.