The Best Boats for Cruising the Loop: From 86 to 25 Feet
By Peter A. Janssen
The wide – and healthy – variety of U.S. cruising, particularly Great Loop cruising, has come into focus recently with two unrelated events. On the one hand, at the Fort Lauderdale International Boat Show, Outer Reef celebrated the debut of its 86-foot Deluxbridge Skylounge yacht, designed specifically for the Great Loop. On the other, Pat and Patty Anderson, a retired lawyer and school teacher from Birch Bay, Washington, celebrated their completion of the Loop, after 226 days, on their 12-year-old, 25-foot Cape Dory Daydream with their Lhasa Apso Baxter.
The new Outer Reef, HQ (pictured above), has four owner and guest cabins and two crew cabins with heads, a lounge and galley. The enclosed upper helm is temperature controlled, and eliminates the need for a lower helm. The owners built a large country kitchen/galley where the lower helm traditionally would be, to create more room for dining and entertaining. The full-beam master has a king-sized bed, two built-in vanities on each side, and an en suite head; it is reached via a curved teak stairway from the salon.
Powered by twin 1,140-hp CAT C-18 diesels, the Outer Reef 86 has a cruising speed from 9 to 20 knots and tops out at 22.5 knots. It also has twin 38kW Northern Lights gensets and carries 3,000 gallons of fuel and 500 gallons of water.
At the other end of the size spectrum, the Andersons' C-Dory is powered by a 150-hp Honda outboard with a 15-hp Honda kicker and cruises at 16 to 18 knots. Anderson said they traveled 5,428 statue miles on the Loop, using 1,114 gallons of gas for a total cost of $4,200. They actually completed the Loop, back at the Ortona Lock Boat Ramp in La Belle, Florida, on Patty's birthday. "She got the birthday present she was really hoping for – for us to have crossed our wake and to see Daydream on the trailer ready for the long drive back to Birch Bay," Anderson wrote on his blog. (See the picture below.)
Among the things he found most useful, Anderson said, was an iPad on a RAM mount at the helm for navigation, their Coleman one-burner propane stove, Sea Eagle kayak, Airhead composting toilet, and Helio shower, operated by a foot pump to pressurize the tank connected to a 7-foot-long line to the shower head. Their sleeping area in the V-berth forward was 6'4" long, which he said was comfortable enough.
"The size of our boat was not a handicap but a benefit on the Loop," Anderson wrote. "Daydream was big enough that we had everything we needed and were comfortable, and small enough that both Patty and I could handle her safely."
There may be a moral here. At boat shows and on boating blogs, a lot of people talk about the best boat for the Loop. Perhaps the answer is, the boat you have.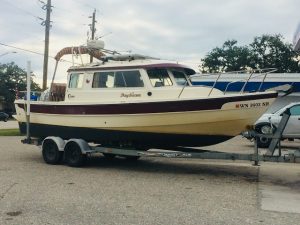 http://www.outerreefyachts.com/news/Outer-Reef-Christens-860-Motoryacht-HQ-at-2017-Fort-Lauderdale-Boat-Show/564
http://daydreamsloop.blogspot.com