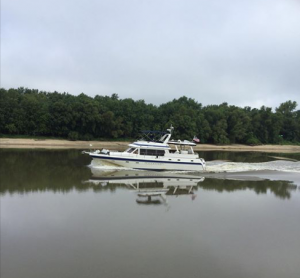 At 77, Herb Seaton doesn't know when to stop. He just completed the 6,000-mile Great Loop in December, going most of the way single-handed on his 53-foot Tarquin Trader Phantom. And now, after a little down time at home in Tarpon Springs, Florida, he's ready to do it again. "The Loop is no big deal," he wrote me. "It just takes money, time, and being a little crazy to try doing it alone."
Seaton is originally from Johnson City, Tennessee, and he joined the Army after graduating from the ROTC program at East Tennessee State University. The Army sent him to Germany; he came back 33 years later.
Settling down in Tarpon Springs, because of the weather, he bought a 30-foot Sea Ray Sundancer, which needed some help. Next came a 27-foot Sea Ray. Then came the desire for a bigger boat, after he learned about the Great Loop and served as one of the America's Great Loop Cruisers' Association's Harbor Hosts, helping "Loopers" who stopped in Tarpon Springs. After a while, he figured, "if they can do it, I can do it."
Seaton bought Phantom in Coral Gables, hired a captain to help him get used to the big boat, replaced the fuel tanks, and left home last March, heading across the Okeechobee and then turning left. He had a companion on board up to Norfolk, and then a relative for the trip up the Hudson and the Erie Canal. Other than that, he was on his own.
The weather was terrible for a while, and Seaton had to navigate Phantom, with a 5-foot draft, around shoals on the southern part of the Waterway. The only real accident was when the current pushed him into a channel marker as he was leaving a marina in Cape May, NJ. Driving from the bridge, Seaton was checking his iPad for water damage (he had dropped it in some overnight rainwater), and the current pushed the bow into the marker. When he tried to steer away, the aft starboard side of the boat hit the marker. "Hello, R18," Seaton wrote on his blog. "Your color, number and mental video of that instant will forever be embedded in my memory." A teak railing was broken and one of the supports for the sunroof was cut in half.
Later on, he went through all 44 locks on the Trent-Severn Waterway on his own, helped by Phantom's bow and stern thrusters. Seaton also bought a wireless remote for the thrusters, and a remote for the autopilot. He usually cruised at about 10 knots, and left plenty of time to plan his maneuvering ahead of time when coming in to a dock.
For Seaton, his first completion of the Loop was only a preparation for the second. But before he tackles the Loop again he'll head over to the Bahamas, probably next month. And he's planning ahead. Once the second Loop is under his belt, Seaton says he'll cruise down to Cuba. Read more:
http://phantomsgreatloop.blogspot.com