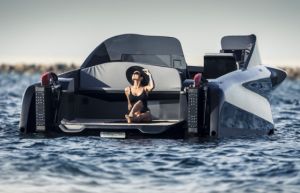 Hydrofoils aren't exactly new (think America's Cup boats, high-speed ferries), but we haven't seen one like this before. Take a look at the new 31-foot, 40-knot Foiler just introduced at the Dubai International Boat Show. It's made by Enata Marine in Sharjah, UAE, and it's said to deliver a super-smooth ride while soaring five feet above the water on its retractable carbon-fiber hydrofoils.
Powered by two 320-hp BMW diesels, the Foiler goes through the water like a normal boat until the foils are deployed at about 18 knots. Then, with a reduced wetted surface and drag, it takes off. The company says the Foiler is 20 percent more fuel efficient than a traditional boat, the ride is so smooth that it reduces seasickness, and the Foiler is so stable that people can walk around the boat comfortably at cruising speed. It can carry eight people and handle 6-foot seas.
Foiler is also a hybrid. Under diesel power it has a range of 130 nm at 30 knots. But when it switches to its two generators and battery power, it can run for ten minutes at speeds up to 10 knots.
Specs.: LOA: 31'0"; Beam, with foils deployed: 23'6: Beam, with foils raised: 10'8"; Draft (non-foiling mode): 1'6"; Disp.: NA; Fuel: 79 gals.; Water: NA; Power: 2×320-hp BMW diesels.
See pictures and a video of the Foiler in action, below:
http://www.dailymail.co.uk/sciencetech/article-5463139/Incredible-flying-superyacht.html