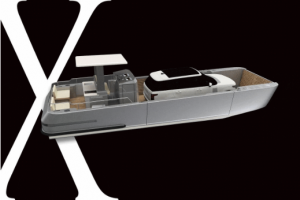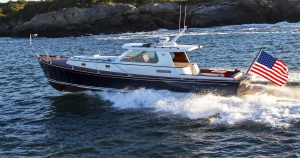 So far, Reliant Yachts has specialized in making classic Down East-style cruisers like the Reliant 40, a traditional boat with a long sheer, low profile and gorgeous tumblehome. But the company, launched by two of the most respected names in the business, David MacFarlane, the former president and CEO of Alden, Cal, Ranger and Rampage, and Jim Ewing, the former VP of Alden and president of Trumpy, is nothing if not creative.
Indeed, take a look at their newest project, the X40L, a Swiss Army-knife approach to yachting that's part tender and part SUV on the water. "When yacht builders claim they are coming out with something unique, it is often hyperbole," Ewing says, "but I think we can safely say that in the X40L we are producing something that is quite singular in the yachting industry."
Among other things, X40L is a 40-foot superyacht tender, car carrier, landing craft, floating dining room, scuba platform, utility boat, whatever. It is being built for a client who wanted a luxury utility tender to move things and people back and forth from his superyacht to shore, including a SUV. He wanted to beach the boat and drive the SUV onto the shore. For Reliant, that meant an aluminum hull with shallow draft and jet drive. And they designed a hydraulically-powered front ramp to drive the SUV on and off.
The new X40L has large "wing" doors on the hull on each side that power down to extend the deck space and provide easy access to the water. The aft swim platform folds down so you can get into the water from all four sides of the boat. The boat is small enough so it can stow in a superyacht garage, where its shallow draft and water jets keep its vertical footprint to a minimum, yet it's large enough to carry 14 guests to a deserted island for a private picnic.
The new Reliant has a genset and AC to keep everyone cool on board, a Seakeeper gyrostabilizer to make sure they're comfortable, and a complete galley with a stove, sink, fridge/freezer and dishwasher. Power comes from twin Cummins diesels paired to Hamilton waterjets. The company projects a top speed of about 20 knots.
Reliant, with headquarters in Newport, Rhode Islands, builds its boats in a yard in Turkey. For more: