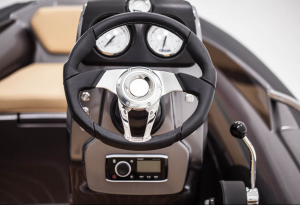 Here's a new 10-foot RIB from Argos Nautic that will make you think you're behind the wheel of an Alfa or a Ferrari on the water. The new semi-custom Argos Nautic 305 Yachting is indeed a combination of luxury (see the Isottta steering wheel, above) and all-out-fun performance, all in a center console RIB that seats four.
On the new Argos Nautic, the console is offset to starboard, with a full-beam plush seat aft and another on the bow. The RIB was drawn by Facheris Design in Bradenton, Florida, and comes with premium upholstery, a Fusion sound system, teak deck and custom pop-up hardware. Each boat is outfitted to order and the owner can choose from a palette of colors and textures to make his or her RIB unique.
The boat comes with a 30-hp outboard, but with an optional 40-hp engine it comes on plane in three seconds and tops out at about 36 mph. It has a 5' 8" beam, weighs 750 pounds and holds 10 gallons of fuel.
The Argos Nautic 305 Yachting is approved by the U.S. Coast Guard and has a base price of $30,000. For more: