Ranger Tug 25 Update: Nellie May Passes 4,000 Miles on Great Loop, Now in Erie Canal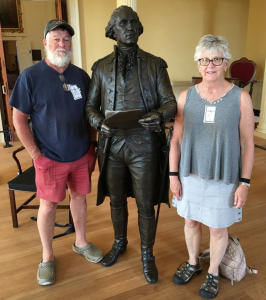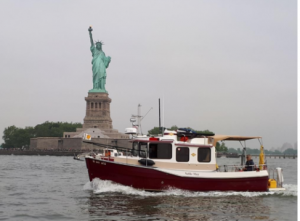 By Peter A. Janssen
The beat goes on. Tim and Mary Kenyon have put more than 4,000 miles under the hull of their Ranger Tug 25 Nellie May since they left Illinois last Sept. 11, and now they're cruising on the Erie Canal (see the picture, top). If all goes according to plan, they expect to cross their wake in Ottawa, Illinois, about half way between Chicago and Peoria, in early September.
We last covered the Kenyons in February when they left Nellie May in Melbourne, Florida, and flew back home to Wentworth, South Dakota, for some business. But they flew back and got back on the Loop again, taking the Intracoastal Waterway north. They arrived in Norfolk, Virginia, on May 5, and they've been cruising ever since.
The Kenyons went up the Chesapeake to Annapolis, where they posed for a picture with a statue of George Washington in the historic Maryland State House, and then took the C&D Canal and the Delaware River down to Cape May, New Jersey.
But then they decided to take the Jersey ICW inside, instead of going out in the ocean. Their Ranger 25 only draws 2 ½ feet, but they still ran aground once. "We had two days of mile after mile of watching the depth gauge," Mary wrote on their blog. "It was exhausting, but the alternative is to dash out into the Atlantic and make two 50-mile runs with no chance to get back into safety if the weather changed."
They spent a day on the Boardwalk in Atlantic City and then waited for a weather window before heading for the last 30 miles of the New Jersey coast outside in the ocean to the Great Kills yacht Club on Staten Island. They spent five days there, playing tourist in New York City, even meeting other Loopers at an Irish Pub in Manhattan.
After taking pictures in front of the Statue of Liberty, the Kenyons left New York Harbor, busy with ferries and commercial traffic, "as fast as possible," Mary wrote. But they loved the beautiful countryside going up the Hudson.
Nellie May is not the Kenyons' first Ranger Tug. They had a Ranger Tug 21 before, for cruising on a lake near home. But when they started thinking about the Loop, they went to the Seattle boat show in 2015, just on a scouting expedition. They ended up buying the 25 on display there.
"It's hard to believe we have been on the water since last September," Mary just wrote. "We agreed we have finally gotten into the rhythm of days on the water. Each day is different. Our schedule is determined by the wind and tide. That means we make a Plan A, but usually end up with Plan D, E, or F. If we like someplace, we stay an extra day." Read more: