Volvo Unveils Revolutionary New Self-Docking System on 68-foot Azimut. See Video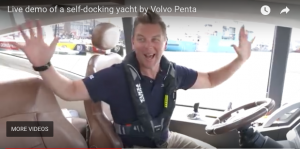 By Peter A. Janssen
Volvo Penta just demonstrated its new self-docking system in a 68-foot Azimut in Sweden where the boat docked itself perfectly in a tight space without the aid of a human hand. And it has a video to prove it.
The new system. called "Easy Docking," is an example of Volvo's research in autonomous vehicles, and it was displayed during a stopover of the Volvo Ocean Race in Gothenburg. After the captain pushed a button at the helm, the boat maneuvered itself with a combination of Volvo's IPS system and new sensors and computers into a slip between two docked Volvo Ocean Race 65 sailboats. A human captain could not have done it better.
"Our IPS system has already taken great strides in making docking easier," said Volvo Penta president Björn Ingemanson, "and this new self-docking feature takes that process one important step further. Its sensors and onboard computers react in milliseconds to changing wind and sea conditions, constantly making minor adjustments in power and steering angle of the IPS drive to keep the boat on its intended course into a safe berth. If necessary, the docking process can be paused, and the system will hold the boat stationary in the water."
The Easy Docking system starts when the GPS finds a "catch zone," the area where the boat starts the self-docking mode. Sensors in the cockpit and on corners of the slip then control the boat, working with the boat's electronic vessel control system to make instantaneous adjustments. Volvo set up the system on the Azimut to keep about a six-foot separation from the two boats on either side.
Before long, Volvo expects that "enabled marinas" would install the sensors and offer self-docking in special slips to boats equipped with Easy Docking. Eventually, Easy Docking owners would have sensors installed on their home docks. Volvo says Easy Docking will be available as an option on OEM boats in two years, and the company also will introduce a retrofit version for boats with IPS.
The self-docking system places a top priority on safety, and is not designed to be fully autonomous. It has sensors to provide anti-collision alerts, and a captain is meant to be at the helm ready to take over at any time if necessary. See the video below or for more:   http://volvopenta.com