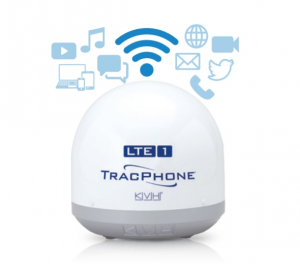 What are most people worried about when they're starting a long cruise, say on the Great Loop, the Inside Passage or through coastal waters? In this internet age, everyone wants to stay connected. And they don't want to worry about dropped connections, spotty Wi-Fi service at far-flung marinas, or a bundle of unexpected costs showing up in the bill at the end of the month.
Now KVH says it has an answer to all that: The new KVH TracPhone LTE-1, a fast, extended-range mobile internet option that works throughout the U.S. and up to 20 miles offshore. It costs $1,699 plus $199 a month for 20 GB airtime, and it's as fast as 100 Mbps. KVH says the new TracPhone doubles the coverage and is up to ten times faster at sea than existing cell phone coverage. And it works with two leading carriers.
The new TracPhone has a high-gain, dual-antenna array, modem, GPS, and Wi-Fi router in the dome, all combining to provide both a stronger signal and faster speeds than 4G LTE. It also has automatic switching between LTE and satellite services.
Here's what you can do with it:
Stream video and music.
Call, text, and chat, with Wi-Fi calling.
Browse the Internet.
Check e-mail.
Use apps like Apple Messages and WhatsApp.
And if you really can't get away from the office, you can sign up for video conferences.
The TracPhone LTE-1 is easy to set up; just plug and play. And it offers multiple connectivity, so everyone on board can use it. It's designed to be either a stand-alone unit or a complement to your existing satellite communications. For more: