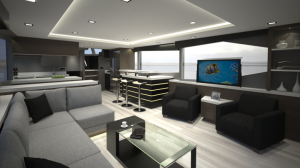 Here's a new long-range cruiser with a different look and an attitude: the Tactical 77 Fast Pilothouse Motoryacht. Serious and military-looking on the outside, the new Tactical 77 is luxurious and comfortable on the inside, ready to take its owner and guests just about anywhere in the world.
The boat was designed by William Prince Yacht Design, in Port Washington, Wisconsin, and it's being built by Tactical Custom Boats in British Columbia. Prince designed the aluminum yacht for a North American client who wanted a military look combined with a contemporary and sleek interior. The superstructure is built with carbon-fiber construction to keep the weight down for greater speed. The owner wants to focus on speed and cruising comfort underway.
An all-weather boat, the Tactical 77 will have a Seakeeper 5 gyro-stabilizer, suspension seating, a large cockpit and a custom articulating transom platform so the owner can launch tenders and water toys without having to use a davit or a crane.
Prince says the interior will have a superyacht fit and finish. The salon is open with a lounge area, pop-up TV, adjacent bar and galley. There also is a powered sunroof for additional light, and a powered canopy over the cockpit for protection against the weather.
Prince said the client had "a very specific set of requirements for this remarkable boat which are simply not available from any other vessel of this size today. We've designed go-anywhere capability and luxurious accommodations inside with aggressive, pseudo-military exterior styling."
For his part, Tim Charles, principal of Tactical Custom Boats, says, "How can we not be excited about this boat? These are the kind of build projects boat builders dream about."
We don't have details about specs or engines yet. Sea trials are scheduled for next year. Read more:
http://billprinceyachtdesign.com
http://tacticalcustomboats.com