Slowboat Flotilla Runs Down West Coast of Vancouver Island, a Quintessential Pacific Northwest Cruise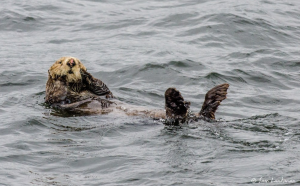 By Peter A. Janssen
The Slowboat Flotilla of five cruising boats is now on its third week of running down the west side of Vancouver Island, a quintessential Pacific Northwest cruise in the ocean that isn't all that popular. Most cruisers in that part of the world take the much more protected Inside Passage, starting on the east side of Vancouver and going up to Alaska. Indeed, the Slowboat people took another flotilla up that way earlier in the summer.
The west side of Vancouver is much more remote and possibly demanding, with a mix of jutting peninsulas, fog, rolling Pacific seas, peaceful anchorages up long sounds, sandy beaches, historic villages, and lots of wildlife, particularly salmon and otters. It's much safer to undertake the west side in the company of others, with experienced leaders, which is what the Slowboat flotillas are all about.
This flotilla started in Port McNeill, on Queen Charlotte Strait on the northeast shore of Vancouver Island. A former logging base camp, Port McNeill is small but it has a good marina with fuel, mechanics and divers, and a grocery store is nearby. The flotilla is made up of Mana Kai, a Kadey-Krogen 44; Waterford, a Nordic Tug 32; Zube, a Frers-designed Hallberg-Rassy 39 sloop, and the two Slowboat leaders' boats: Airship, a Nordic Tug 34 (with Laura Domela and Kevin Morris), and Safe Harbour, a Nordic Tug 37 (with Sam Landsman). The leaders are chronicling the cruise on their blog.
After an easy cruise up to Bull Harbor at the northern tip of Vancouver, the flotilla had to run around the Brooks Peninsula, which the leaders wrote "may be the single most challenging spot on the whole west coast." The peninsula juts about a dozen miles into the Pacific, and the wind often funnels around Cape Cook and Solander Island at about 25 knots. The flotilla departed in fog and 6-foot seas, and passed half a mile off Solander, although they never saw it in the fog. Once they were around the peninsula, however, the weather changed dramatically, the sun came out and "we surfed our way down the coast, reaching 11 knots on the face of the swells and slowing to 5 climbing up on the back. Fun!"
Later on they explored sandy beaches and inlets, but ran into more fog coming in to Westview Marina and Lodge. After they tied up and were doing their laundry, they watched fishermen bring in one wheelbarrow after another loaded with salmon, including one 32.5-pound Chinook, the result of a local fishing tournament.
They also had a bit of angst approaching Klaskish Basin in a fog bank with only a quarter-mile visibility. The entrance is only 100 feet wide at one point, and they realized that although their raster charts showed it correctly, some others had it off to the side by 50 feet. Charts willing, the Flotilla will end in Victoria. Read more: