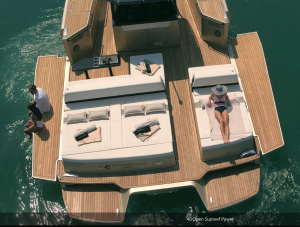 The innovative, creative and greatly expandable Sunreef 40 just won the award for the Best Power-Driven Catamaran at the World Yachts Trophies ceremony at Cannes during the yacht show there. The award recognized the Sunreef 40 Open Power Diamond Limited Edition as one of the best and most innovative yachts in the world. The Cannes award was the second for the Sunreef 40. It also won the award as the Best Recreational Boat Up To 45 Feet at the Asian Boating Awards during the Singapore Yacht Show in April.
Sunreef introduced its first foiling cat at the Cannes show four  years ago. Since then, it has worked to make them the most advanced, luxury performing catamarans on the market. The boat's 17-foot beam provides massive lounging space and stability at high speeds. Two lateral aft folding platforms enhance the boat's living space, and the volume below the aft sunpad allows for storage for water toys and diving gear.
A dining area on the bow has adjustable tables and lots of seating. This deck also can be turned into a comfortable cabin and head for overnight trips. The Sunreef 40 is highly customizable and can also hold an extra cabin or utility room.
The prize-winning Sunreef 40 has two 860-hp Mercury Racing outboards for 60-knot performance, and a 35-knot cruising speed. An innovative retractable hydrofoil lifts the boat above the water at 25 knots, and it glides above the waves with low drag, low fuel consumption and long range. For more: