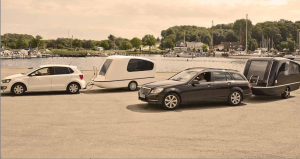 As its name implies, Sealander is a vehicle at home on sea or land, an amphibious aquatic camper that can be towed behind any mid-sized station wagon or SUV and then launched into the water where it can cruise around at about 5 mph. You definitely don't want to take this out in a four-foot chop, but it would be a hoot to cruise around a quiet part of the Waterway or a nearby lake on a calm day. You'd certainly turn a lot of heads.
Designed and made in Kiel, Germany, Sealander weighs about 1,100 pounds, is 13' 3" LOA, has a fiberglass shell and a galvanized chassis with sealed wheel hubs. You don't have to do anything to launch it except detach it from your trailer hitch and bolt on a small outboard motor.
The interior features a dinette with two bench seats with leather cushions and a collapsible table that converts into a bed. It has waterproof LED lighting, a tinted acrylic glass hatch and a convertible fiberglass-reinforced polyester roof that zips into place.
Base price is about $20,000. Options include a head, shower, stainless steel sink, a single-burner cooktop, and a water pump with a three-gallon water tank. For more:
https://www.coastalliving.com/travel/floating-camper-sealander?utm_campaign=coastalliving_coastalliving&utm_content=photo&utm_medium=social&utm_source=twitter.com&utm_term=19E151B2-C6EB-11E8-8A29-9E1B50017A06