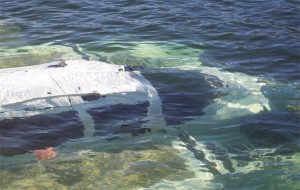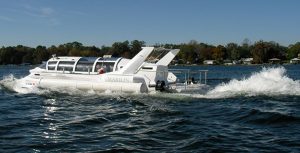 A new Florida company is testing a combination of a fast cruising boat and submarine called the Hyper-Sub that it says goes 35 mph on the surface, 6 mph when submerged, and can dive down to 1,200 feet. Created by HSP Technologies of Lake City, Florida, the prototype was tested this summer and the company is now conducting further sea trials.
The Hyper-Sub is 45 feet long with a 16-foot beam and uses two 480-hp Yanmar diesels for surface power. Underwater, it's powered by two 60-hp 12-inch innerspace thrusters. The boat/sub carries 525 gallons of fuel, and burns 34 gph at its cruising speed.
Designed for personal use or for tourism or the military, the Hyper-Sub is made with two main components, the sea frame and the cabin. The sea frame has ballasts, engines, batteries and the dive chamber. The modular cabin  can be customized for an owner's needs; it could hold passengers or cargo in a variety of configurations. An owner even could order several different cabins, for different uses, on one sea frame.
The Hyper-Sub has what the company calls Hyper-Buoyancy controls over 30,000 pounds of lift in eight different compartments. As a result, the Hyper-Sub can return to the surface even in the event of a massive systems failure. Hyper-Buoyancy also allows for a rapid ascent to return the cabin to a position above the waterline. Read more and see the company's video:
https://www.autoblog.com/2018/10/12/the-speed-boat-that-transforms-into-a-submarine/