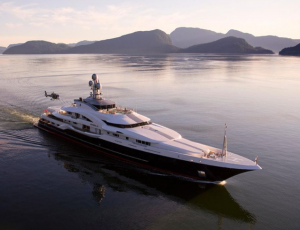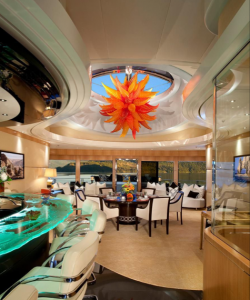 The Coast Guard is investigating why there seemed to be no warning before the 332-foot megayacht Attessa IV, one of the largest private yachts in the world, hit the 65-foot charter fishing boat Prowler at night in the Pacific south of San Diego, killing one man on the fishing boat.
The Coast Guard said the accident occurred about 7 p.m. nine miles off Imperial Beach near the U.S.-Mexico border. Prowler was on its way back to its home base in San Diego after a fishing trip in Mexican waters. Attessa hit the starboard quarter of Prowler, causing extensive damage, and critically injuring Richard Neff, 66, from San Clemente, one of 28 people on board.
The Coast Guard said Attessa reported the collision about 7:50, and that a Jayhawk helicopter and a 45-foot response boat were on the scene within an hour. The helicopter airlifted Neff to a hospital in San Diego where he died four hours later. The medical examiner said he "fell some distance and struck his head."
Ten other passengers from Prowler were transferred to the Attessa, while the Coast Guard took the remaining 17 back to shore. The Coast Guard said its investigation may take months to complete.
Attessa IV is the fourth Attessa owned by Dennis Washington, an 84-year-old billionaire from Montana. It was built in 1999 in Japan. Washington, who is worth $6 billion according to Forbes, bought it in 2007 and paid for a three-year refit, adding 28 feet to the hull and installing a forward garage that holds a 37-foot Novurania and a 33-foot Riva. The yacht also has a helicopter, a swimming pool on the top deck and a spa on the lower deck, a 12-seat movie theater, marble fireplace, beauty salon, gym and ten cabins. It can hold 26 guests and a 21-member crew. Powered by twin Wartsila 12V32E engines, it has a top speed of 22.6 knots.
Washington's other Attessas have made news in happier circumstances. In 1987, a 144-foot Attessa was used in the movie Overboard, with Goldie Hawn and Kurt Russell. And in 1993 Attessa was featured in Indecent Proposal with Demi Moore and Robert Redford.
Washington started working at his uncle's construction companies. When he was 30 he bought a bulldozer and went out on his own; in five years his company was the largest builder in Montana. He now owns a consortium of companies called the Washington Companies, which include a copper mine, a railroad and aviation companies. It also  includes the Seaspan Marine Corporation, which has three shipyards, barge and tug services and a ferry business. Read more:
https://missoulian.com/news/state-and-regional/details-scant-on-fatal-collision-with-dennis-washington-s-superyacht/article_596cd142-e9b8-5992-8999-29c2b20ef482.html