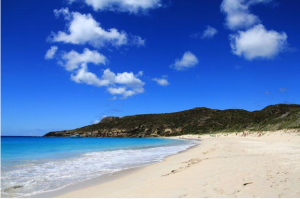 It's only a few weeks until St. Barts, the eight-square-mile island in the West Indies that seems like a part of France, becomes the yachting center of the world. Well, the rich-and-famous yachting center of the world, that is. Because between Christmas and New Years the gorgeous, protected harbor at Gustavia, the island's capital, is filled wall-to-wall with beautiful yachts and beautiful people. That's all well and good, but if you're like me and the rest of us, that means you'll probably be spending your holidays somewhere else. But it also means that there are 50 or so other weeks a year when you can cruise or charter a boat to St. Barts and enjoy one of the  most beautiful spots in the Caribbean.
A quintessential island paradise, St. Barts is filled with contradictions. Downtown Gustavia is filled with the upscale shops you'd find in Paris, New York or Rio: Hermès, Cartier, Chanel, all magnets for the megayacht crowd tied up just a few blocks away. But you can anchor in one of the inner or outer mooring fields in Gustavia Harbor, take you dink ashore, and pick up a freshly baked croissant or baguette for breakfast.  Le Ship is a well-equipped chandlery not far from Louis Vuitton. Due to its French heritage, St, Barts also is home to at least 80 restaurants, but you'll feel at home right off your boat at Le Select, a self-service beer and burger snack bar that's a boaters' favorite.
St. Barts also is home to 14 spectacular beaches strung around the island. Shell Beach, dotted with small pink shells, is an easy walk from Gustavia. Saline Beach (pictured above) is a local favorite; CNN has ranked it number five among the 100 best beaches in the world.
For diving, take your boat or a dink from Gustavia to the islet Pain de Sucre, or cruise up to Columbier Beach at St. Barts' northern tip and anchor near the Marine Park there. Or you can anchor off Corossol, a small fishing village where many people still keep to their old Norman and Breton ways; it seems like it's in a different century than Gustavia.
If you don't have your own boat, you can charter a bareboat or crewed boat from St. Martin and cruise down to St. Barts. It's only 22 nm away. Read more:
https://www.moorings.com/blog/why-st-barts-belongs-on-your-travel-bucket-list