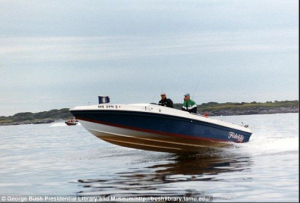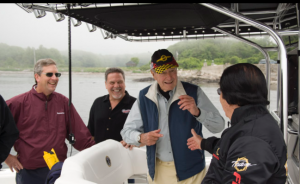 President George H.W. Bush, who just passed away at 94, loved to go fast. He was the youngest pilot in the Navy during the Second World War when he was shot down near Iwo Jima; he was rescued after he bailed out by a passing submarine. Later in life he loved to get behind the helm of speedboats in Florida and then off his family's compound in Maine.
He lived life to the full. Indeed, at his memorial service at the National Cathedral, his son, former president George W. Bush, said his father "was born with two settings: full throttle and sleep."
Bush bought his first fast boat, a Cigarette, from Don Aronow, who founded the company (among many others), and he loved to get it airborne for an adrenaline rush off Miami (see picture above). Then he'd go bonefishing in the Florida Keys.
But most of his boating was done off Walker's Point in Kennebunkport, Maine. Bush wrote that he caught the boating bug when he was 9 years old and his father let him and his older brother, then 11, take the family lobster boat out by themselves. After the war, his tastes turned to something faster.
Starting with the Cigarette, Bush named all his speedboats Fidelity. And he turned to Fountains, which I can attest (since I once drove one 162 mph) are extremely fast. (The fastest I've ever driven a Cigarette was 101). Over the years, Bush got newer, bigger and faster Fountains, including Fidelity V, a Fountain 38 with three 300-hp Mercury Verado outboards (see top picture). Reggie Fountain, the president of Fountain Powerboats, delivered the boat to him in Maine. (Fountain, on the right, is talking with Bush on the boat in the picture above right.)
Fidelity V went 75 mph, and Bush loved it. The Secret Service did not, since they ended up bouncing around on three different RIBs trying to keep up with him. Bush usually used the boat to fish for bluefish and striped bass, but he also loved to push the throttles forward and test the boat's upper limits.
And he was always the gentleman. Many years ago, when Bush was vice president, we did a story about him and his boats in Motor Boating & Sailing. About a week after the magazine came he sent us a very kind, hand-written note thanking us for taking the trouble to write about him.