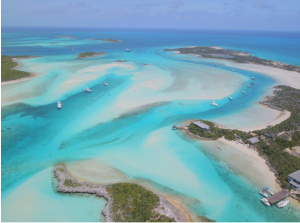 Many veteran cruisers think that the Exuma Cays Land and Sea Park is the best part of the Bahamas, with simply breathtaking water and sandbar colors and some of the best diving in the world. Created in 1959, the 176-square-mile park is filled with dozens of cays, islets and beaches. It is a "no-take reserve" where all fishing is prohibited.
The land part of the park is a protected habitat for iguanas, nesting sea turtles and sea birds. The sea part, a mecca for divers, has spotted eagle rays, spiny lobsters and Technicolor fish.
The park just rejuvenated its seven mooring fields, with a total of 96 moorings. As you can imagine, with all the shallows and sandbars, navigation must be precise and the moorings must be placed to keep boats from swinging into dangerous territory or each other.
Here's a great story by Brent Barrows II, the warden of the park, about how they upgraded the moorings, starting last spring. The pictures are stunning. Read more:
http://parks242.com/blog/the-perfect-position-leading-mpas-worldwide-in-providing-safe-effective-moorings/