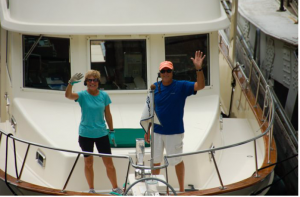 By Peter A. Janssen
Back in 2004, Jan and David Irons left Annapolis and headed south on their Passport 37 sloop. Over the next dozen years or so, they made it as far as Cartagena, Colombia, and back. Along the way, the Irons discovered that cruising year-round wouldn't work for them. So they developed a schedule of "commuter cruising," leaving the boat somewhere safe, coming back home for six months of normal family life and then returning for six more months of blue-water cruising. They even started a website, www.commutercruising.com. Somewhere along the way they also dreamed of doing the Great Loop.
After 15 years and 25,000 miles of sailing, the Irons changed their mode of transportation, but not their way of life. They sold the Passport and bought a 2007 Mariner 40 trawler named Optimystique with a single 230-hp Cummins diesel. Last Feb. 5 they left Bradenton, Florida, headed across Lake Okeechobee and turned left, starting the Loop. Last month, they "crossed their wake," having completed the 5,200-mile Loop in 330 days, including 118 travel days.
During their cruise, they traversed 100 locks ("exactly," Jan wrote), spent the night in 35 anchorages and 74 marinas with "countless" facilities' and wi-fi codes. "Where was the best shower?" she asked. "Hands down, Trent Port Marina in Trenton, Ontario."
The single greatest highlight, she wrote, was the historic 65-foot-high Peterborough Lift lock on the Trent-Severn Waterway, one of the highest in the world. Other highlights:
– The East Coast and Gulf Coast ICW, gunkholing among leaping dolphins and visiting the historic towns of Savannah, Georgia, and Beaufort, S.C.
–  Exploring the North Channel and Georgian Bay in Canada.
–  Canal boating on the Trent-Severn; river boating on the Hudson, Mississippi, Illinois, Ohio, Cumberland and Tennessee Rivers.
– "Watching in awe as Optimystique cruised all the iconic views of the Great Loop: The Statue of Liberty, the St. Louis Arch, and cruising the Chicago River through the skyline of Chicago."
– Sampling local cuisines. Shrimp 'n grits, and "devouring the world's biggest steak at Spoon River in Belhaven, N.C."
– Most important, she wrote, "beyond all these amazing experiences and memories are the people and new friends that accompany them."
During the Loop, the Mariner cruised at 8 knots, burning just 2.7 gph. It has a bow thruster, protected side decks, an overhang from the flybridge that protects the aft deck, a teak interior, a master stateroom forward and a second cabin with twin berths that was popular with the grandchildren.
Now that they've completed the Loop, the Irons are putting the Mariner up for sale, but they're not done with cruising. "We're not sure what our next adventure is," she told me, "but it certainly will involve a boat and water." They want to return to some of their favorite spots, particularly Georgian Bay and the North Channel. "Plus," she said, "I can think of an unlimited number of places we have yet to cruise." Read more: