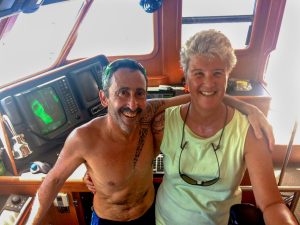 Two years after they left Mexico, Ron and Nancy Goldberg just completed their Pacific crossing, arriving in Bundaberg, Australia, on their Nordhavn 50 Duet just ahead of a nasty front. The last leg took them 745 nm from Fiji to New Caledonia, where they waited 60 hours for a weather window, and then another 813 nm to Bundaberg.
"Conditions slowly worsened toward the end of the journey," Nancy wrote on their blog, mvduet.com, with 20-knot headwinds for the last day. "Duet just soldiered on, with spray flying over the top of the pilothouse." The Goldbergs spent a few days in Bundaberg, restocking at the local supermarket and seeing their first kangaroo, before taking Duet another 200 nm to Brisbane where they put it on a yacht transport that will carry it to Ensenada, Mexico. They'll pick it up there and take it to San Diego, "where she will enjoy a well-earned rest before we begin our next adventure," Nancy wrote.
All told, the Goldbergs travelled 8,492 nm, usually at 8 knots, putting 1,402 hours on their single 300-hp Lugger diesel, and 3,142 hours on their Northern Lights genset. They spent 46 nights at sea; the longest stretch was 17 days from Puerto Los Cabos, Mexico, to the Marquesas in French Polynesia. During the voyage, they spent two thirds of the time at anchor; the rest in marinas. And they had to make occasional trips back home to Incline Village, on the Nevada shore of Lake Tahoe, where Ron, an anesthesiologist, was still working.
The Goldbergs have been cruising for more than two decades. Like many cruising couples, they started out sailing, taking their first charter in the BVI in 1993, then buying a Monk 36 trawler and cruising on the Chesapeake for several years. In 2000, they bought a 1996 Nordhavn 46, named Duet, and cruised the Chesapeake for a year to get used to it. Then they sold their house, moved on the boat and spent summers on the Chesapeake and winters in the Bahamas, cruising 10,000 miles in six years.
But then came the move to Lake Tahoe and a change of scene. After five years they wanted to resume cruising, so in 2012 they bought a 2000 Nordhavn 50, named it Duet, and cruised from Seattle to Alaska and eventually south to Mexico and now across the Pacific.
They love the boat. Nancy told me that "we've been very pleased with the 50 as a long-distance ocean boat. The 46 would have done just as well. We traveled with N46 Starlet (two Atlantic crossings as well as the Pacific), and N60 Daybreak, and all the boats performed very well."
For her favorite pictures, she sent me the shots above. The picture of Duet was taken in the western lagoon of Bora Bora last spring, and the picture of the two of them was taken about the same time, she said, "having survived another circuit through the Bora Bora reef, which is a little intricate on the eastern side."
In an email, I asked the Goldbergs what was their favorite spot on the trip. Their response: "Bora Bora was spectacular. We spent a lot of time there and it was great to have guests come in. They have now enacted some anchoring restrictions, so it may no longer be as easy. As far as remote places go, Bahia Maroe on Eastern Huahine was a special place for us. We saw a mother whale and her calf in there one magical morning. Musket Cove in Fiji is great, lots of boats  passing through; it's a big, safe anchorage and there's lots to do. We also anchored to the west of Fraser Island, Australia, near the Kingfisher Resort, for New Year 2018. It was beautiful. Then, of course, there's Tahanea in the Tuamotus; talk about anchoring on the edge of the world…As you can see, we have problems with this question."
Originally, the Goldbergs had planned to spend a year cruising around Australia, but they thought two years was long enough to be away from home. "We are looking forward to some time in the mountains at home and giving Duet some serious TLC," Nancy said. "She deserves it. She has taken great care of us throughout this amazing journey." Read more: