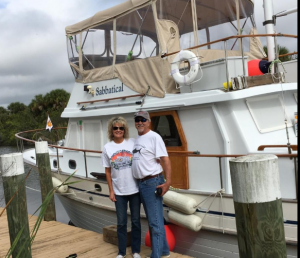 Steve and Jane McKinney just completed the Great Loop in Sabbatical, their 1988 Albin 36, crossing their wake just north of red day beacon 74 in Charlotte Harbor in Florida. The trip took 369 days and lasted for 6,845 miles, and they had such a good time they're going to do it again. "We enjoyed every second of every day," Jane told me.
The McKinneys are not life-long cruisers. Indeed, they didn't start thinking about the Loop until two years ago. They'd been married for 33 years and have four grown children, and they were approaching a time in life where they were looking for something to do. Jane was a physician's assistant, Steve worked in commercial real estate. One of Jane's patients told her about the book, Honey, Let's Get a Boat.
They read the book. They joined America's Great Loop Cruisers' Association. They took power squadrons classes (including one taught by Steve's brother Mike), and in July, 2017, they bought the Albin from another couple who'd already completed the Loop in it. They renamed it Sabbatical because they figured they would take a year off to do the Loop and then return to their jobs.
The Albin has two cabins and two heads. It's powered by a single 135-hp Ford Lehman and cruises at about 8 knots. "It's the perfect boat for us," Jane said. "Single screw, no thrusters, no autopilot, no radar, manual toilets, manual windlass. There's nothing to break. She has a fully enclosed upper helm where we spend a lot of time." It has a relatively shallow four-foot draft, a 700-nm range and carries 300 gallons of fresh water. It also came with two folding bikes, which they used a lot.
The McKinneys created a blog, sabbaticalontheloop, to record their trip. "What an amazing journey it has been," they wrote at the end. "We've enjoyed sunsets and sunrises. We've been delighted by cruising in glassy waters and terrified by waves unpredicted. We've been injured and hurt each other's feelings. We've survived and loved like never before. We have mingled and imbibed with many new friends at lots of docktails. We have worshiped at lots of different churches with local folks we don't know. We've seen a great deal of these beautiful United States by water and enjoyed the scenic Canadian waterways."
I asked for their favorite spot and Jane replied that it was hard to pick just one, "but I'm going to say Canada with its pristine waters and beautiful scenery. We loved Montreal. The people are so great."
And they're going to do the Loop again. "Our next venture will likely take us up to Maine, since one of our kids and his family are moving to Portland this month," she said. "Then around again when the locks and rivers are open for business." Read more:
http://sabbaticalontheloop.com
www.sabbaticalontheloop.com