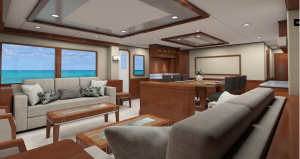 Nordhavn is building its first 80, another battleship-solid, blue-water cruiser but with a new, more contemporary look and styling. Powered by twin 375-hp John Deere diesels, the new Nordhavn 80 will top out at 12 knots and cruise at 9 knots, and it will carry 4,810 gallons of fuel for an ocean-crossing range.
Nordhavn says it developed the 80 in response to buyers' demand for a new boat between the Nordhavn 76 and the Nordhavn 86. "For some, an 86 is just too big," says Jim Leishman, the vice president of PAE, Nordhavn's parent company. "At 80 feet, this boat will be that much more manageable."
The design of the 80 recalls a more contemporary yacht-type look than the rugged expedition-ship look of some previous models. The lines are clean and flowing, without giving up any of Nordhavn's round-the-world character. It represents a natural evolution for the go-anywhere builder.
The 80 has four staterooms plus a room for two crew. The main deck is open with large windows in the salon, a sizeable galley and dining area, and the owner's suite forward. Options for the upper deck include a penthouse-type owner's suite behind the bridge, replacing the skylounge, or a captain's cabin immediately aft of the helm. The boat is big enough to hold two tenders and an optional Jacuzzi.
New propulsion features include skegs and grounding shoes around each prop for safety. The hull sections forward of the props also will be fuller and a bit deeper than usual for additional protection.
The 80 is under construction at Nordhavn's South Coast factory in Xiamen, China, and is scheduled to be launched toward the end of this year.
Specs.: LOA: 78'8"; Beam: 23'4"; Draft: 6'9"; Disp.: 292,900 lbs.; Fuel: 4,810 gals.; Water: 800 gals.; Power: 2×375-hp John Deere diesels.