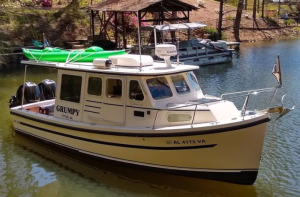 Even at 80, John Hauck is looking for new challenges. "I like adventure," he told me. "I've been an adventurous individual my whole life."
Hauck's latest adventure is to take on the Great Loop, by himself ("All my adventures have been solo," he said) on his 2003 Rosborough RF-246 Grumpy with twin 150-hp Mercury outboards. He left Demopolis, Alabama, on April 15, and he's now cruising down the Gulf Coast of Florida, aiming to complete the 5,600 mile Loop in two to four months.
"I thought this would be a good way to celebrate my 80th year," he said. "Twenty-four/seven on the Rossi is good for me mentally as well as physically. I get an awful lot of exercise for my brain as well as my body. I'm responsible for everything on the trip. That really keeps me busy the entire day, every day."
In many ways, Hauck has been seeking new adventures all his life. He dropped out of high school and joined the Army when he was 16. He retired 24 years later, as a major, with a BA from the University of Tampa. Along the way he served with Special Forces during the Vietnam War, then went to flight school and returned to Vietnam as the pilot of a Cobra helicopter gunship with the 101st Airborne.
After the Army, Hauck decided against starting a second career, and instead said he simply "enjoyed my freedom." He traveled, he built three airplanes and he flew over all the states east of the Mississippi and six west of the Mississippi in a single-place ultralight powered by a 40-hp two-stroke engine. In another plane, he circumnavigated the continental U.S., with a 3,000-mile side trip to Prudhoe Bay, Alaska, in 1994, covering 19,200 miles in 41 days.
In his earlier years, Hauck also was a boater; at various times he owned a Sea Ray Great Lakes Hardtop, a 19-foot Thunderbird, a 17-foot Sportcraft. Three years ago, the boating bug bit him again, and he bought a C-Dory 19 with a 90-hp Honda outboard, and started cruising again. "I discovered I could still do it," he said. So he covered 3,200 miles in trips on the Tenn-Tom to Knoxville and then to St Marks, Florida, and back.
For longer voyages, Hauck decided he needed more creature comforts, and he bought the 25-foot Rosborough. It has an AIS receiver, an autopilot, radar and a watermaker. He usually cruises at 23 mph, burning 10 gph; top speed is 40 mph.
Earlier this week Hauck was cruising south from Tarpon Springs, Florida, heading for Key West. If the weather is good, he said, he'll go over to the Dry Tortugas. And why not? It's all part of the adventure.  You can follow his progress on his Facebook page, Grumpy Does The Great Loop 2019.