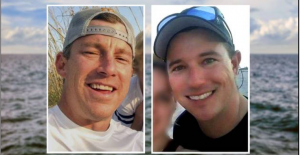 The Coast Guard is ending a massive search for two firefighters who have been missing since they left Cape Canaveral last Friday morning for a short fishing trip. The two men were last seen launching their 24-foot Robalo center console on a boat ramp near Jetty Park in Cape Canaveral on Friday morning (see the surveillance photo above). Their families alerted the Coast Guard about 8 p.m. Friday when the men had not returned or responded to cell phone calls.
The search started in Northern Florida and during the week expanded all the way up to the Outer Banks of North Carolina, based on a drift model of currents under the possibility the firefighters may have been caught in the Gulf Stream. It included more than 200 volunteers (many of them are firefighters) on more than 70 recreational boats and ten private planes, plus boats and planes from the Coast Guard, the Navy, the Marine Corps and several state and local agencies. By the end of the week it had covered more than 175,000 square miles, an area the size of the state of Colorado.
The missing fireman are both experienced fishermen. They are Brian McCluney (above, left), a firefighter and paramedic with the Jacksonville Fire and Rescue Department, and Justin Walker, a master technician for the Fairfax County Fire Department in Virginia. McCluney is a decorated Navy veteran and corpsman who was deployed to Iraq twice.
The trip last Friday was a sentimental one for McCluney. His father had died last month, and left the Robalo to him and his brother. This was the first time out on the boat, and he asked Walker, an old friend, to join him.
On Monday afternoon, searchers found a tackle bag floating 50 nm off St. Augustine. McCluney's wife, Stephanie, said it was his bag and that he left it as a "bread crumb" to help searchers find him.
On shore,  Stephanie organized her church group and other friends to walk nearby beaches to see if they could find any sign of the two men. But their searches haven't turned up anything.
Although the Coast Guard is ending its official search, the firefighters said they would continue their search for the indefinite future.  "Firefighters have a unique bond," said Keith Powers, the interim fire chief in Jacksonville. "We live together for a third of our life in those fire stations. We eat together, we laugh together, and when something bad is going on, we cry together." Read more:
https://www.floridatoday.com/story/news/local/2019/08/22/missing-boaters-search-brian-mccluney-justin-walker-expands-following-gulf-stream/2081633001/
https://abcnews.go.com/US/off-duty-firefighters-missing-launching-fishing-boat-off/story?id=65042561
https://www.firstcoastnews.com/article/news/local/missing-florida-boaters-tackle-bag-found-off-st-augustine-coast-this-is-a-breadcrumb/77-fd902eee-dc93-4fed-a2e7-d02d3af06386