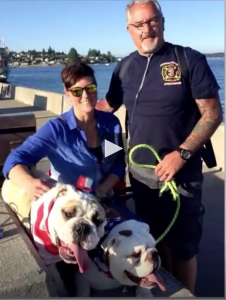 Mike Babbitt, a retired police detective, saved his two bulldogs after his motoryacht caught fire when he was moving it to the fuel dock at the Bremerton (Washington) Yacht Club.
His fast thinking saved the dogs, Pearl, who weighs 60 pounds, and Hootie, who weighs 70; it also saved other boats from becoming involved in the fire themselves.
About 3 on a recent calm afternoon, Babbitt, who lived aboard his yacht Doctor's Orders with his wife Jamie, took it out of its slip to get some fuel. Then he saw flames coming from the engine room. Babbitt maneuvered the boat away from the fuel dock and other boats and then put the two dogs on a paddleboard.
He then jumped overboard himself, but he didn't have time to put on a lifejacket or retrieve his oxygen container. Babbitt served five years in the Army in Iraq and Afghanistan and has an illness that requires him to rely on bottled oxygen for the rest of his life.
Two other members of the yacht club rowed out to rescue Babbitt and the dogs while the Bremerton fire boat tried to save the boat, but it eventually sank. Babbitt was reunited with Jamie at a local hospital. Fire officials are still trying to find out why the fire started.
The Babbitts sold their house to move on to Doctor's Orders. Now they're without a home as well as without a boat. "It's overwhelming that we have to start from scratch," he told KOMO-TV. "And that's probably as close to a punch in the gut as I've ever had," said Jamie.
Meanwhile, friends started a gofundme page, called Doctor's Order's Relief Fund, to help the Babbitts get back on their feet. Read more:
https://people.com/pets/man-saves-bulldogs-burning-yacht-before-saving-himself/