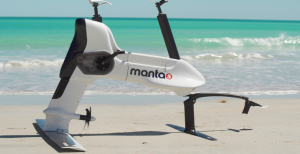 Here's a new water bike that uses America's Cup foiling technology to help you pedal around your next mooring or off your dock. It's called the Manta 5 Hydrofoiler XE-1, and the company says it's the world's first production hydrofoil bike.
The rear foil measures 6' 5″, while the front one is 4 feet. Using the same principle as foils on the world's most famous racing sailboats, the Hydrofoiler has foils to minimize drag and raise the bike out of the water as it gains speed. Top speed on the Hydrofoiler: 12 mph.
In case you get tired pedaling, the Hydrofoiler comes with a 460W electric motor. The bike has three different "assist" levels, so you can adjust them according to how hard you want to pedal. The Hydrofoiler has 60 minutes of running time, depending on the assist level, the sea conditions, and the weight of the rider.
The bike comes with an aircraft-grade, welded-aluminum frame. Its modular design makes it easy to carry and put together. It fits easily in the trunk of a car, or in a large lazarette. And it's built to operate in salt or fresh water. A display on the handlebars shows speed and battery level. Cost: $7,490. Read more:
https://mbaction.com/new-bike-discovery-manta5-hydrofoil-bike/
---