2019 BVI BoatU.S. Flotilla Recap & Photos
Published:
August 13, 2019    Tina Huewe  
Comments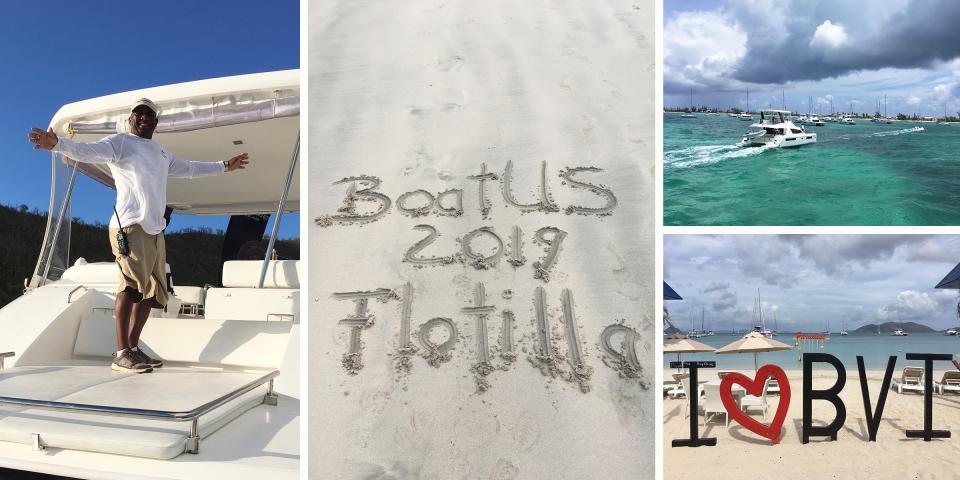 The Moorings has a long-standing relationship with the Boat Owners Association of The United States (BoatU.S.) – an organization that supports the interest of recreational boaters. In 2014, we partnered for the first time to create the annual BoatU.S. Flotilla, which invites members to come together in a beautiful destination, mingle and of course get out on the water!
Here's the latest recap:
Our 6th annual BoatU.S. Flotilla in the enchanting British Virgin Islands – this year spearheaded by Captain Dunbar, Tina Huewe (The Moorings Marketing), and Terese Kerrigan (Social Media Manager) – presented once again a superb week on the water. We love that our flotillas bring people from all walks of life together with at least one common interest – their boats! Over the week we discovered that we had more than one thing in common and shared many interesting stories about jobs, travels, children, parties, and boating!
Our fun-filled Welcome Cocktail night at the Tortola base showed us early on that we had an excellent group of people to discover "Nature's Little Secrets" together in the week to come.
Participants used the next morning for final preparations and received a more detailed briefing from Captain Dunbar before we all headed out to our first stop — Cooper Island. Here many of our participants had the opportunity to grab the first mooring ball in their lives. And many succeeded on their first try. Well done!
This year we also tested a new mooring ball reservation service, called "Boaty Ball", for the first time and found out that reserving a mooring in paradise has its advantages and disadvantages.
However, at each stop of our itinerary, Captain Dunbar made sure that all participants had a safe mooring ball or anchorage for the night; hopping into his dinghy and lending a helping hand where necessary.
At Cooper Island Beach Club we enjoyed the variety of refreshment options its own on-site brewery, rum bar, restaurant, boutique, and coffee shop provide and some of our participants took their dinghy and equipment to close-by Cistern Point for their first snorkeling adventure of the week.
Next came a breathtaking stop at The Baths. It's always advisable to get there early. As usual, the dinghy line separating the cruising area from the swimming/snorkeling area was well-made use of that day. All participants climbed through the huge boulders and ventured up and down the marked path and wooden ladders, through the natural pools to Devil's Bay to be rewarded with a beautiful little beach setting. Many opted for lunch at "Top of the Baths", where the views are amazing. Read more:
https://www.moorings.com/blog/boat-us-flotilla-recap