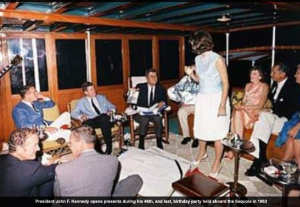 The historic presidential yacht Sequoia, built in 1925 and in a sad state of disrepair, is heading up to Maine for a complete restoration. It then will be displayed on the Washington, D.C., waterfront where it will be used to teach about American history and promote ocean conservation.
The Sequoia served eight presidents, starting with Herbert Hoover, until Jimmy Carter put it up for auction in 1977. FDR, a former assistant secretary of the navy, used it to host foreign dignitaries. JFK, who commanded a PT boat in the Second World War, added a king-sized bed and celebrated his 46th birthday on board (see picture above). President Nixon, a naval officer in the Pacific during the war, used it the most, logging 88 trips on board, including a meeting with Leonid Brezhnev, the Soviet leader, to negotiate a SALT disarmament treaty. He later told his family that he would resign, rather than face impeachment, while cruising on the Sequoia on the Potomac.
The 104-foot Sequoia was built by the Mathis yard in Camden, New Jersey, for the Cadwalader family of Philadelphia, based on a design by John Trumpy, for $200,000. The hull was laid up with yellow pine on white oak frames; the deckhouse was made with teak and mahogany. The yacht could accommodate eight guests and a crew of 13, and it could seat 22 for formal dinners. Top speed was 12 knots.
In the Great Depression, the federal government bought the Sequoia to patrol the Chesapeake for bootleggers. But then President Hoover started the practice of using it as a floating White House for cruises and official entertainment.
In recent years, the Sequoia had been used for private charters and then was largely forgotten, sitting on a cradle in a boatyard on the western shore of the Chesapeake. It was the subject of a six-year legal battle. The yacht is now owned by the Equator Capital Group, based in Washington, which barged it to the Richardson Maritime Museum in Cambridge, Maryland.
The Sequoia will be carried on a barge this week up the coast to the French & Webb yard in Belfast, Maine, for what might be a four-year restoration. After that it will return to the Washington waterfront. "In four years, and hopefully sooner, Sequoia will be seaworthy and ready for Americans to once again enjoy the former presidential yacht's storied past," said Michael Cantor, managing partner of Equator. Read more:
https://wtop.com/business-finance/2019/10/presidential-yacht-sequoia-to-be-restored-live-in-dc/?fbclid=IwAR2KypcQHT3Hom3JV_9IgN4HwnMPOH9L4YzdZjSLYgp2AfRVNfPpTwyBIbY