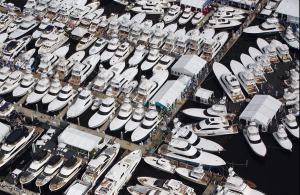 The Fort Lauderdale International Boat Show just keeps getting bigger and better every year. This year is the show's 60th anniversary, and it will have 1,500 boats in the water on six miles of floating docks, 1,200 exhibitors and an expected 110,000 visitors (including 1,000 who will arrive on their private planes). The organizers say it is the largest in-the-water boat show in the world, and it runs from Wednesday, Oct. 30, through Sunday, Nov. 3.
Large, indeed, and a far cry from the first Lauderdale show, which featured 13 boats, and which opened in the in the Eisenhower Administration. Today the show stretches across seven locations – the main show at the Bahia Mar Yachting Center, plus the Hall of Fame Marina, Broward County Convention Center, Pier 66 Marina, Las Olas Marina, Fort Lauderdale Hilton Marina, and the new Superyacht Village at Pier 66 for the largest yachts (up to 400 feet), plus such superyacht accoutrements as helicopters, personal submarines and exotic cars.
We'll be spending a lot of time taking a good look at the new power cruising boats at the show, and there are a lot of them making debuts there. They include the Palm Beach 70, the new flagship of the Palm Beach fleet and Mark Richards' latest beauty, the roomy Fountaine Pajot 40 power cat, Vicem 67 cold-molded mahogany cruiser, Lexus LY 650 (the luxury car maker's largest yacht), Marlow 100 ICE (a world-cruising expedition yacht), Greenline 45 Fly (see our review this week), the eco-friendly Silent 55, and the Outer Reef 720 DeluxBridge Generation 2 long-range cruiser.
We hope to see you there. But if you want to get away from the crowds, the VIP Windward Club is at a new location on the main dock at the Bahia Mar in its own tent with gourmet food, an open bar and a cigar lounge. It costs $300 a day, which includes admission and a water taxi.
Admission for the rest of us is $34 for Thursday through Sunday. Prime Time Preview tickets allow early access to show for $53 and are valid Wednesday through Sunday. Admission for children ages 6 to 15 is $15.
Show hours are noon to 7 p.m. on Wednesday, 10 a.m. to 7 p.m. Thursday through Saturday, and 10 a.m. to 6 p.m. on Sunday.
Totally aside from the show, Fort Lauderdale is a boating mecca, with 165 miles of canals (the city is often called the Venice of America), sprawling waterfront villas, the historic New River that runs through the heart of downtown, the charming Las Olas shopping and dining area, and the massive Port Everglades, which heads out into the Atlantic. Plus great waterfront restaurants and bars – and a terrific beach. Read more: